Methodology
Open Access
Open Peer Review
This article has Open Peer Review reports available.
Evolutionary triangulation: informing genetic association studies with evolutionary evidence
Received: 18 June 2015
Accepted: 29 March 2016
Published: 2 April 2016
Abstract
Genetic studies of human diseases have identified many variants associated with pathogenesis and severity. However, most studies have used only statistical association to assess putative relationships to disease, and ignored other factors for evaluation. For example, evolution is a factor that has shaped disease risk, changing allele frequencies as human populations migrated into and inhabited new environments. Since many common variants differ among populations in frequency, as does disease prevalence, we hypothesized that patterns of disease and population structure, taken together, will inform association studies. Thus, the population distributions of allelic risk variants should reflect the distributions of their associated diseases. Evolutionary Triangulation (ET) exploits this evolutionary differentiation by comparing population structure among three populations with variable patterns of disease prevalence. By selecting populations based on patterns where two have similar rates of disease that differ substantially from a third, we performed a proof of principle analysis for this method. We examined three disease phenotypes, lactase persistence, melanoma, and Type 2 diabetes mellitus. We show that for lactase persistence, a phenotype with a simple genetic architecture, ET identifies the key gene, lactase. For melanoma, ET identifies several genes associated with this disease and/or phenotypes related to it, such as skin color genes. ET was less obviously successful for Type 2 diabetes mellitus, perhaps because of the small effect sizes in known risk loci and recent environmental changes that have altered disease risk. Alternatively, ET may have revealed new genes involved in conferring disease risk for diabetes that did not meet nominal GWAS significance thresholds. We also compared ET to another method used to filter for phenotype associated genes, population branch statistic (PBS), and show that ET performs better in identifying genes known to associate with diseases appropriately distributed among populations. Our results indicate that ET can filter association results to improve our ability to discover disease loci.
Keywords
Genetic associationPopulation differentiationHealth disparitySelection
Introduction
As humans moved out of Africa, population patterns of genetic variation changed dramatically, due to both random (e.g., genetic drift that can cause serial founder events) and non-random (environment-specific selection) processes. The histories of the different populations have therefore resulted in substantial differences among populations in allele frequencies at loci throughout the genome [1]. Many, if not most of these differences, will have limited effect on phenotypic variation, but some allelic substitutions may have implications for differences in phenotypic variation among populations that may help inform us in the search for genes of biomedical significance. Specifically, it could be hypothesized that the alleles that affect disease risk in multiple populations should be distributed in ways that are consistent with differences in population prevalence, such that risk alleles should be more frequent in those populations where a given disease is more prevalent and less frequent where the disease is relatively rare.
Screening variants for differences in allele frequencies among populations may serve as an effective filter to identify candidates for disease, even in the absence of prior physiological evidence for disease-related function. However, because of the large number of allele frequency differences among any two populations [
2
], pairwise comparisons between most human populations will generate too large a number of differentiated single nucleotide polymorphisms (SNPs) to be of much practical use; any single comparison is likely to generate too many possible loci, most of which are unlikely to be related to a specific phenotype or class of phenotypes (Fig.
1a
). We hypothesize that adding a third population with similar disease prevalence to one of the other two populations being compared increases our ability to define genomic regions of particular interest with respect to disease or phenotypic variation by removing the vast majority of loci or SNPs that, although highly differentiated, are unlikely to associate with phenotypes of interest (Fig.
1b
). The intersection of variants that have similar allele frequencies in populations with similar disease prevalences, and different allele frequencies between populations with different prevalences, should yield an enrichment of genes that associate with a given disease. We define such variants as "appropriately distributed" with respect to a given phenotype. Similarly, diseases that we will call "appropriately distributed" are those that have prevalences distributed consistently with the allele frequency patterns of variation.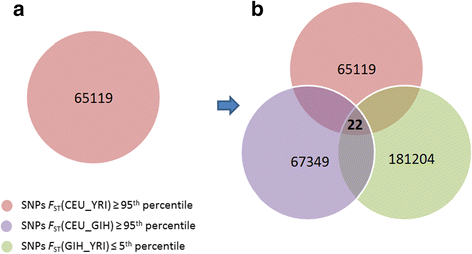 In this manuscript, we present a heuristic approach that incorporates genetic and epidemiological information – namely, known disease distributions with pairwise allele frequency differences among three populations – to filter association results from other genetic epidemiological analyses, such as genome wide association studies (GWAS). We call this approach Evolutionary Triangulation (ET), as it represents comparisons of three genetically distinct populations, assayed simultaneously. To assess levels of differentiation, we use Wright's FST [3], which is a metric that provides an estimate of the level of allele frequency differences among populations. To assess the performance and to determine the limits of our approach, we applied ET to a number of phenotypes that vary in presumed genetic architecture, ranging from an essentially Mendelian trait (lactase persistence), to diseases of increasing complexity, i.e., melanoma, representing an oligogenic disease, and fasting glucose/Type 2 diabetes mellitus as a highly complex disease with many genes of small effect.
Methods
Index phenotype and population selection
We selected three index phenotypes in this study: lactase persistence, melanoma, and Type 2 diabetes mellitus/fasting glucose, based on prior epidemiological data, most of which were derived from the World Health Organization's website (
http://www.who.int/en/
) or current literature (Additional file
1
: Table S1). Our selection of phenotypes was further guided by the availability of genetic data from appropriate HapMap populations that coincide with the epidemiological data (Additional file
1
: Table S1). For instance, melanoma is rare in South Asians and Africans, but common in Europeans (e.g. ~150 fold greater prevalence than in South Asians), matching the HapMap populations GIH, YRI and CEU. Additionally, these phenotypes represent a range of underlying genetic architectures, allowing us to assess whether ET is applicable to a broad variety of traits, from effectively Mendelian diseases to complex disorders with small effect sizes (e.g., odds ratios as low as 1.04)(Table
1
).
Table 1
Genetic associations of the 85th/15th threshold ET genes with index diseases/traits (CEU-GIH-YRI)
Index disease

ET genes

5tha

10tha

Odds ratiob

Lactase Persistence

LCT

Y

Y

Mendelian

Melanoma/Skin Neoplasms

OCA2

3.16 [58]

SLC45A2

Y

Y

2.78 [15]

TYRP1

1.15 [59]

XRCC1

0.60 [60]

Diabetes Mellitus, Type 2/Glucose Intolerance/Insulin Resistancec

ADAMTS9

1.12 [61]

DGKB

1.04 [62]

FTO

1.17 [63]

IDE

1.28 [64]

IGF2BP2

Y

1.22 [65]

IL6

Y

1.29 [66]

SH2B1

Y

1.16 [67]

SREBF1

Y

1.17 [68]
Triangulation for ET SNPs and mapping to ET genes
We chose representative HapMap populations based on the prevalences of the index phenotypes (Additional file 1: Table S1). We obtained all SNP allele frequency data for unrelated individuals from the selected populations in the International HapMap Project Phase III [4], which included 113 Utah residents with Northern and Western European ethnicity (CEU), 84 Han Chinese from Beijing, China (CHB), 88 Tuscans from Italy (TSI), 88 Gujarati Indians from Houston (GIH), 113 Yoruba from Ibadan, Nigeria (YRI), 86 Japanese in Tokyo, Japan (JPT), and 50 Mexican Americans in Los Angeles, California (MEX). CEU was a proxy for Northern European populations, CHB and JPT for East Asian populations, TSI for Southern European populations, GIH for South Asian populations, MEX for Central American Hispanic populations, and YRI for West African populations.
To assess the population genetic differences we calculated unbiased estimates of
F
ST
based on HapMap allele frequency data according to the Weir and Cockerham formula [
5
]. For example, among the CEU, GIH and YRI, as shown in Fig.
1
, the
F
ST
of each SNP was calculated pairwise. ET SNPs (center triangle, Fig.
1b
) were selected according to the overlaps of high
F
ST
(CEU_GIH), high
F
ST
(CEU_YRI) and low
F
ST
(GIH_YRI). Since we did not know
a priori
the appropriate levels of
F
ST
similarity/dissimilarity that would enable us to detect genes associated with specific phenotypes, we used different
F
ST
thresholds to yield different numbers of ET SNPs. We first chose a highly stringent threshold, with the 95th percentile of
F
ST
indicating high differentiation and the 5th indicating a high degree of similarity (Fig.
2
). This allowed us to limit the number of ET SNPs suitable for further hand-curated genetic association mining. We then applied more lenient thresholds, namely the 90th percentile and the 85th percentile reflecting high differentiation, and the corresponding 10th and 15th percentile reflecting sufficient similarity. ET genes were defined as genes that were within 100 Kb upstream or downstream of each ET SNP, according to NCBI Build 37. To further explore putative associating loci we also examined the recombination landscape around ET detected SNPs, using Locus Zoom ((
http://locuszoom.sph.umich.edu/locuszoom/
).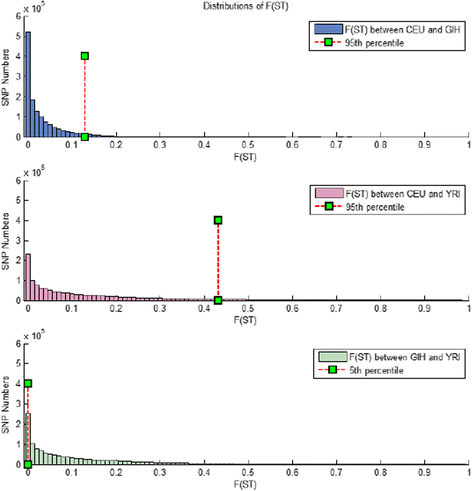 Genetic association mining and identification of additional phenotypes
Genetic associations of ET genes with diseases were analyzed based on data retrieved from the HuGE Navigator [6] (http://www.cdc.gov/genomics/hugenet/hugenavigator.htm), a human genome epidemiology knowledgebase that incorporates information from PubMed abstracts as its core data source. We defined a "true" association as one for which a gene had: (1) five or more HuGE publications significantly associating it with a phenotype using the Genopedia function and p < 0.05 in any combination of studied populations, or (2) GWAS evidence with a P value of less than 5 × 10−8 reported in HuGE Navigator. Although negative GWAS results have been shown to correlate with geography and FST [7], we chose to be conservative, ignoring negative results as this is a proof of principle.
Additional phenotypes were noted if they too associated with ET genes in the HuGE Navigator database. Other associating diseases were then assessed for their global distributions to assess whether they are also similarly distributed to the index phenotypes (Additional file 1: Table S1).
Random resampling analysis
To determine whether ET significantly enriched for genes that associated with the index or other appropriately distributed phenotypes, we performed permutation testing. Specifically, for each ET threshold we sampled from the genome the same number of genes that were identified to be associated with appropriately distributed disease using ET. We then verified using the same criteria as for ET how many of these genes were associated with appropriately distributed disease based on the continental ancestry for a given comparison. We used the empirical distribution to determine the p- value of the ET analyses. The empirical distributions were determined by sampling the genome 10,000 times without replacement. We established the number of times that the same number or more such genes were found by this random process.
Results
ET comparisons among populations were chosen to reflect the distribution of several phenotypes, ranging from genetically simple to increasingly complex, that differ in prevalence among HapMap populations. Estimated genetic complexity was based on the number of GWAS identified genes and their effects sizes, extracted from the NHGRI GWAS catalog (Additional file 2: Table S2). The index phenotypes we analyzed were, in order of presumed increasing genetic complexity, lactase persistence, melanoma, and Type 2 diabetes mellitus/fasting glucose. These phenotypes are likely related to evolutionary adaptations to different environments, making the integration of evolutionary data more promising.
Conclusions
Evolutionary thinking can provide important insights for biomedical research; when combined with current approaches commonly employed in human disease studies, it can increase our ability to find key genes or pathways that affect etiology. By taking advantage of both epidemiological differences and population structure, we demonstrated that many genes associating with diseases can be found. This paper presents a proof of principle for this approach, as well as some of its limitations. Clearly, for phenotypes with simple genetic architecture, ET is an extremely powerful approach, but this becomes less practical for traits of increasingly complex architecture. Nonetheless, for several traits, we were able to identify genes with known effects. It is also possible that many more of the ET genes are truly associating, but have not been reported as such, as they do not meet current thresholds for significance. Therefore, we propose that ET can be a useful filter with which to interrogate existing and new association studies for consistent patterns that might lead to the identification of additional genetic risk factors.
Declarations
Acknowledgements
This work was supported by the March of Dimes Prematurity Research Center Ohio Collaborative and grants from the National Institutes of Health (P20 GM103534, 2R01LM010098, and 5R01EY022300-03).
Open AccessThis article is distributed under the terms of the Creative Commons Attribution 4.0 International License (http://creativecommons.org/licenses/by/4.0/), which permits unrestricted use, distribution, and reproduction in any medium, provided you give appropriate credit to the original author(s) and the source, provide a link to the Creative Commons license, and indicate if changes were made. The Creative Commons Public Domain Dedication waiver (http://creativecommons.org/publicdomain/zero/1.0/) applies to the data made available in this article, unless otherwise stated.
Authors' Affiliations
(1)
Department of Genetics, Dartmouth College, Geisel School of Medicine, Hanover, USA
(2)
Institute for Quantitative Biomedical Sciences, Dartmouth College, Hanover, USA
(3)
Human Genetics Division, Cincinnati Children's Hospital Medical Center, Cincinnati, USA
(4)
Perelman School of Medicine, University of Pennsylvania, Philadelphia, USA
(5)
Center for Prevention of Preterm Birth, Perinatal Institute, Cincinnati Children's Hospital Medical Center, and March of Dimes Prematurity Research Center Ohio Collaborative, Cincinnati, USA
(6)
Present Address: Department of Epidemiology and Biostatistics, Case Western Reserve University, 10900 Euclid Avenue, Cleveland, USA