Research
Open Access
Open Peer Review
This article has Open Peer Review reports available.
Characterizing gene-gene interactions in a statistical epistasis network of twelve candidate genes for obesity
Received: 26 June 2015
Accepted: 15 December 2015
Published: 29 December 2015
Abstract
Background
Recent findings have reemphasized the importance of epistasis, or gene-gene interactions, as a contributing factor to the unexplained heritability of obesity. Network-based methods such as statistical epistasis networks (SEN), present an intuitive framework to address the computational challenge of studying pairwise interactions between thousands of genetic variants. In this study, we aimed to analyze pairwise interactions that are associated with Body Mass Index (BMI) between SNPs from twelve genes robustly associated with obesity (BDNF, ETV5, FAIM2, FTO, GNPDA2, KCTD15, MC4R, MTCH2, NEGR1, SEC16B, SH2B1, and TMEM18).
Methods
We used information gain measures to identify all SNP-SNP interactions among and between these genes that were related to obesity (BMI > 30 kg/m2) within the Framingham Heart Study Cohort; interactions exceeding a certain threshold were used to build an SEN. We also quantified whether interactions tend to occur more between SNPs from the same gene (dyadicity) or between SNPs from different genes (heterophilicity).
Results
We identified a highly connected SEN of 709 SNPs and 1241 SNP-SNP interactions. Combining the SEN framework with dyadicity and heterophilicity analyses, we found 1 dyadic gene (TMEM18, P-value = 0.047) and 3 heterophilic genes (KCTD15, P-value = 0.045; SH2B1, P-value = 0.003; and TMEM18, P-value = 0.001). We also identified a lncRNA SNP (rs4358154) as a key node within the SEN using multiple network measures.
Conclusion
This study presents an analytical framework to characterize the global landscape of genetic interactions from genome-wide arrays and also to discover nodes of potential biological significance within the identified network.
Keywords
DyadicityHeterophilicityStatistical epistasis networksEpistasisGene-gene interaction
Background
By 2030, the obesity epidemic has the potential to affect 1.2 billion people worldwide [1]. Within the United States, a third of the adult population is categorized to be obese; this creates an estimated economic burden of $147 billion each year [2, 3]. Moreover, obesity has also been attributed to be a risk factor for conditions such as cardiovascular disease, type 2 diabetes, cancer and premature death [4]. Therefore, this issue has drawn the focus of many public health efforts in the U.S. These efforts have been especially important for combatting rising levels of childhood obesity [2].
In addition to the influence of environmental and lifestyle factors, obesity also has a strong genetic component. It has been shown to have heritability estimates ranging between 40 and 70 % [5, 6]. However, the genetic loci that have been found to be associated with Body Mass Index (BMI) so far, can explain only a portion of its variation [7]. Epistasis or gene-gene interactions are a possible contributing factor to this 'missing heritability' [8, 9].
Previously, genetic variants within FTO have been identified to exhibit the strongest association with obesity in humans [3, 10–12]. However, recent studies have found that these FTO variants are in fact associated with the expression levels of a nearby gene, IRX3 [13]. Such findings have reemphasized the importance of gene-gene interactions in obesity. We aim to extend this work by studying interactions between twelve candidate obesity genes that have been consistently identified by multiple genome-wide association studies (GWAS) [7, 14–16]. Variants on these genes represent some of the strongest independent genetic associations that have been identified for BMI and account for ~1 % of the variance observed in BMI [17].
We employed previously established network science methodologies to construct a genetic interaction network and characterize epistatic interactions within this network [18, 19]. The use of networks provides an intuitive framework for studying and visualizing complex relationships between large numbers of biological entities [20]. A network is usually represented as a collection of vertices or nodes that are connected in pairs by edges. In addition to studying the properties of the nodes within this network, we also analyzed the distribution of certain node properties in relation to the underlying network structure. Park et al. have proposed the network metrics of dyadicity and heterophilicity in order to identify if interactions tend to occur more between nodes with similar characteristics [21]. We utilized these metrics in conjunction with a statistical epistasis network (SEN) to characterize gene-gene interactions associated with BMI within the Framingham Heart Study cohort.
Discussion
The need for embracing the complexity of data from genome-wide genotyping arrays, also presents a bioinformatics challenge. Trying to study interactions between thousands of genetic variants can be computationally demanding. However, this is important for truly elucidating the disease mechanisms of complex disorders. The use of network science and information theory provides an intuitive framework for representing the inter-connectedness between biological entities and assessing the global structure of these interactions. It also enables researchers to identify key network nodes by studying the interplay between global network properties and node properties. Studying gene-gene interactions has been especially important in the context of obesity, as shown in recent studies.
In this study, we constructed an SEN of SNPs from twelve candidate obesity genes. SNPs belonging to these genes were filtered from the Framingham Heart Study dataset. Initially, all pairwise SNP-SNP interactions associated with BMI were calculated, using the 'information gain' measure. Next, SNP-SNP interactions exceeding a certain threshold were used to construct the network. The corresponding gene for each SNP was also overlaid onto this network. This was used in combination with the network measures of dyadicity and heterophilicity to investigate the nature of interactions within the SEN. We aimed to understand if interactions tend to occur more between different genes or within the same gene.
We identified a highly connected SEN that had a largest connected component consisting of nearly 90 % of the total number of SNPS (709 out of 771 SNPs) in the network. This reflects the complex interconnectedness that may be playing into the disease mechanism of obesity. rs17066891 in MC4R was identified as having the strongest main effect within this network (Table 1). To the best of our knowledge, this SNP has not been implicated in obesity previously. The SNP rs9940128 in FTO was identified as having the second strongest main effect in the network (Table 1). This SNP has been previously identified to be associated with BMI with a genome-wide significance, in adolescents and young adults [33].
The information gain measure is mathematically designed for identifying synergistic interactions that help explain a phenotype, beyond what is learned about it through the independent effects of SNPs. The SNP-SNP interaction with most information gained about BMI is between rs2867133 in TMEM18 and rs9878325 in ETV5 (Table 2). TMEM18 has been found to be widely expressed in the brain, including the hypothalamus – the region responsible for controlling the feeling of satiety [34]. This finding corresponds with the previously established role of the central nervous system (CNS) in obesity [35]. ETV5 encodes for a transcription factor belonging to the ETS family [36].
Using IMP, we identified a functional relationship connecting
TMEM18
and
ETV5
(Fig.
5
) [
32
].
ETV5
is known to physically interact with the E3 ubiquitin protein ligase encoded by
RFWD2
[
32
]. This ubiquitin ligase interacts with ACP1, a phosphatase [
32
]. There was also some support for the interaction between ACP1 and TMEM18 in the network. TMEM18 is known to have conserved phosphorylation sites [
36
]. Hence, the interaction between
ETV5
and
TMEM18
could be highlighting a regulatory relationship. ACP1 may be involved in the post-translational modification of TMEM18. Moreover, the possible degradation of ACP1 due to ubiquitination could add an additional layer of regulation.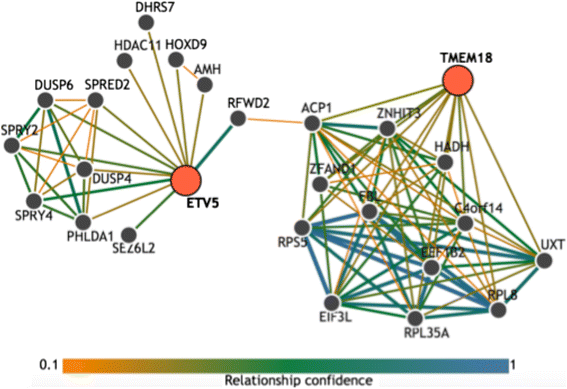 We also performed dyadicity and heterophilicity analyses to characterize the gene-gene interactions within the SEN. We identified three genes with significant heterophilicity (SH2B1, KCTD15 and TMEM18), and one gene with significant dyadicity (TMEM18). Heterophilic genes were involved in more SNP-SNP interactions with other genes than expected at random. SH2B1 encodes for a cytoplasmic adaptor protein and has been implicated in leptin signaling [37]. The significant heterophilicity of this gene may be due to the fact that adaptor proteins contribute to the cross-talk between various signaling cascades by bringing together larger protein complexes [38]. Moreover, the obesity observed in Sh2b1-null mice was reversed by the targeted expression of Sh2b1 in neurons [37]. This was important for highlighting the role of the CNS in the development of obesity, since SH2B1 is expressed both in the CNS and peripheral tissues [35, 37]. The other two heterophilic genes TMEM18 and KCTD15 have unknown functions but are known to be highly expressed in the hypothalamus and brain [35]. Ultimately, these genes reemphasize the brain's role in the development of obesity. Their significant heterophilicity may be a reflection of their biologically central role in regulating the actions of various cells and organs from within the brain.
TMEM18 also showed marginally significant dyadicity (P-value = 0.04). Dyadic genes were part of more intra-genic interactions than expected at random. We identified 23 intra-genic interactions between SNPs in TMEM18, to be associated with BMI within the SEN (Additional file 3: Table S3). Although the biological effect of such interactions within TMEM18 is unknown, these interactions may influence the gene's function and obesity through regulatory and epigenetic mechanisms.
We also utilized network measures such as degree, betweenness centrality and closeness centrality to identify nodes within the SEN that may be of potential biological relevance. In the case of biological networks, certain nodes may play a more important role in the proper functioning of a cell [39] or may serve as better targets for intervention [40]. Researchers have found that hubs within a protein interaction network are encoded by essential genes in model organisms [39]. Moreover, in similar networks, proteins that are also bottlenecks, have been found to be of high biological significance and are often encoded by essential genes as well [41]. The closeness centrality measure has been utilized for identifying central nodes in various types of networks such as metabolic networks [42].
In our analyses, we identified a SNP (rs4358154) in
TMEM18
that had the highest score for all three measures described above (Table
3
, Fig.
6
). This not only highlights the potentially significant role of this SNP in the context of obesity, but may also represent the highly significant heterophilicity of
TMEM18
within the SEN. The SNP is of unknown function, but it is known to be located on
LINC01115,
a long intergenic non-protein coding RNA (lncRNA), located approximately 102 kb downstream of
TMEM18
[
43
]. Unfortunately, not much is known regarding the function of
LINC01115
as well. However, using the NONCODEv4 database, we found that this lncRNA shows most expression within the brain [
44
]. The regulatory role of lncRNAs has been investigated in various contexts including adipogenesis. Researchers have identified lncRNAs as a potential additional layer of regulation involved in the development of mature adipocytes or fat cells [
45
].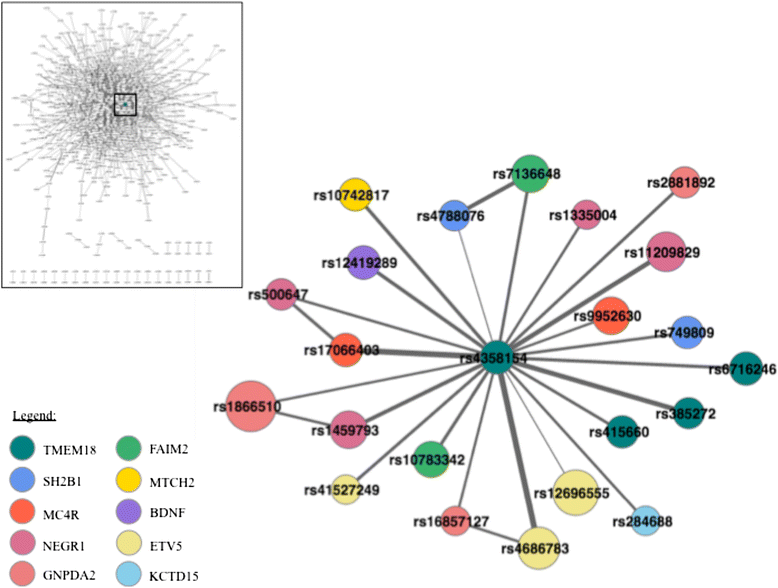 Understanding the regulatory mechanisms involved in the development of fat cells is of special importance for the advancement of future anti-obesity treatments. Humans have two types of fat cells – white and brown. Accumulation of white fat cells causes obesity since they store excess energy as fat or lipid droplets [46]. However, brown fat cells that are more abundant in infants use lipids as a fuel to maintain a warm body temperature [46]. Hence, researchers are interested in exploring the role of regulators such as lncRNAs in the development of each type of fat cell and learning how such processes may be manipulated.
Conclusion
Exhaustively studying all pairwise interactions between SNPs from a genome-wide array can present a computationally challenging problem. In this study we used a network-based approach to investigate all pairwise interactions between SNPs in twelve candidate obesity genes within the Framingham Heart Study dataset. The use of this methodology enabled us to capture the landscape of interactions between genes known to be associated with BMI and to better understand which interactions are predictive of BMI. Furthermore, we were able to characterize these interactions, emphasize new roles of these genes and highlight the involvement of regulatory frameworks in the development of obesity.
Abbreviations
BMI:

Body mass index
GWAS:

Genome wide association study
SEN:

Statistical epistasis network
SNP:

Single nucleotide polymorphism
LD:

Linkage disequilibrium
Declarations
Acknowledgements
This work was supported by National Institute of Health (NIH) grants: NLM R01 grants (LM010098, LM009012) and GMS P20 grant (GM104416).
Open Access This article is distributed under the terms of the Creative Commons Attribution 4.0 International License (http://creativecommons.org/licenses/by/4.0/), which permits unrestricted use, distribution, and reproduction in any medium, provided you give appropriate credit to the original author(s) and the source, provide a link to the Creative Commons license, and indicate if changes were made. The Creative Commons Public Domain Dedication waiver (http://creativecommons.org/publicdomain/zero/1.0/) applies to the data made available in this article, unless otherwise stated.
Authors' Affiliations
(1)
Department of Genetics, Geisel School of Medicine at Dartmouth, Hanover, USA
(2)
Department of Computer Science, Memorial University, St. John's, Canada
(3)
Institute for Biomedical Informatics, The Perelman School of Medicine, University of Pennsylvania, Philadelphia, USA
(4)
Department of Epidemiology, Geisel School of Medicine at Dartmouth, Hanover, USA