Software article

Open Access

Open Peer Review
This article has Open Peer Review reports available.
Caipirini: using gene sets to rank literature
Received: 12 October 2010
Accepted: 1 February 2012
Published: 1 February 2012
Abstract
Background
Keeping up-to-date with bioscience literature is becoming increasingly challenging. Several recent methods help meet this challenge by allowing literature search to be launched based on lists of abstracts that the user judges to be 'interesting'. Some methods go further by allowing the user to provide a second input set of 'uninteresting' abstracts; these two input sets are then used to search and rank literature by relevance. In this work we present the service 'Caipirini' (http://caipirini.org) that also allows two input sets, but takes the novel approach of allowing ranking of literature based on one or more sets of genes.
Results
To evaluate the usefulness of Caipirini, we used two test cases, one related to the human cell cycle, and a second related to disease defense mechanisms in Arabidopsis thaliana. In both cases, the new method achieved high precision in finding literature related to the biological mechanisms underlying the input data sets.
Conclusions
To our knowledge Caipirini is the first service enabling literature search directly based on biological relevance to gene sets; thus, Caipirini gives the research community a new way to unlock hidden knowledge from gene sets derived via high-throughput experiments.
Keywords
Support Vector MachineUnify Medical Language SystemGene IdentifierSupport Vector Machine TrainingInput List
Background
Keeping up-to-date with bioscience literature is becoming more challenging as the number of new papers appearing daily - currently over 2,000 - continues to increase. As a result, there is an increasing need for methods that can efficiently search this literature [1], and to this end a wide range of tools and services are now available [2, 3]. Currently, most tools used for retrieving bioscience literature are based on keyword searches, although such approaches have limitations: firstly, it can be difficult for a researcher to find a set of keywords that exactly specify the biological functions she or he may be interested in; secondly, the ranking of results is usually not based on relevance to the biological functions of interest. Several recent methods have been proposed to address these limitations, e.g., ETBLAST [4] can launch literature searches based on a single text document such as an abstract; such methods allow searches to be defined implicitly, e.g., based on a text of interest, rather than having to explicitly define keywords. Several tools have extended this approach, allowing collections of abstracts as input, e.g., PubFinder [5] and MScanner [6].
A common problem with all literature search methods is that only a fraction of the literature retrieved is truly of interest or relevance for the end-user. Recently, a new tool, MedlineRanker [7], partly addresses this problem by allowing the end-user to define two input lists of abstracts - typically, one input list ('A') can be used for 'interesting' abstracts, and the second input list ('B') for abstracts that are 'not-interesting'. MedlineRanker then uses these two input sets to rank a third 'query' set of abstracts in order of interest, based on similarity to input sets A and B. A significant advantage of this approach is that any retrieved literature that is judged to be uninteresting can be added subsequently to the 'uninteresting' input set, and MedlineRanker can be re-run to iteratively improve the relevance of the results.
The work presented in this paper was motivated by our collaboration with a group of experimentalists interested in ranking literature corpora based on similarity to sets of genes known to be associated with specific phenotypes or conditions. For example, we were interested in ranking literature based on a set of genes known to be associated with disease resistance in the plant model organism Arabidopsis thaliana. In a second case, we wanted to find literature related to the S-phase of the human cell cycle, using as input one set of genes known to be involved in S-phase, and a second set of 'background' genes known to be involved with all other cell cycle phases, but not S-phase.
In searching for a tool that would suit our purposes, we surveyed existing tools for ranking and classifying biomedical literature. Many of the existing tools are based on the 'Support Vector Machine' (SVM) approach [8]; however most of these are 'hardwired' to a particular topic, e.g., alternative transcription [9], human genetic associations [10], or clinical studies [11]. Of the generic SVM tools that can be trained with any topic of interest (e.g., BibGlimpse [12]), none allow literature ranking based on gene lists, although one does precisely the opposite, namely rank genes based on literature [13]. Of the generic non-SVM tools, some can accept lists of genes as input and produce a ranked list of literature as output (e.g., Kleio [14]). However, for our purposes the existing methods have some key limitations. Firstly, users can only specify what they want - they cannot in addition specify what they do not want. We were interested in a method that would allow users to specify a set of literature they find uninteresting, and would use this information to improve the relevance and ranking of subsequent literature searches. A second limitation of existing methods is that they can only find literature that explicitly mentions genes in the input set. We were interested in a method that can go beyond these limitations, learn patterns in the literature associated with the input genes, and potentially return literature that may mention none of the genes in the input lists, but that discusses biological processes and functions associated with the input genes.
To meet these needs, we developed a new service ('Caipirini') that, similar to MedlineRanker, allows two main input sets, but takes the novel approach of allowing one or both input sets to be a set of gene identifiers, hence allowing literature search to be launched based on sets of genes. Caiprini also differs from similar services in that comparison of abstracts is based on keywords taken from a large dictionary of nouns and verbs. In addition, ranking in Caipirini is done using a generic SVM strategy, re-trained for each input provided by the user. Table
1
summarizes key differences between Caipirini and other comparable literature services.
Table 1
Tools for ranking biomedical literature using document sets
Results
Cell-Cycle Dataset
We evaluated the performance of Caipirini using a dataset of 158 gene identifiers associated with S-phase and 456 gene identifiers associated with the other three phases of the human cell cycle (G1, G2, and M). These gene sets were then used as input to Caipirini to rank the results of a PubMed query that specifies ~4,000 abstracts known to be related to S-phase. The same input gene sets were also used to rank the results of another query specifying ~4,000 abstracts known to be related to the other cell-cycle phases, but not S-phase. Caipirini obtained a moderate recall (i.e., 43%), but had high precision (i.e., 84%); see Figure
4
. That is, of all the abstracts predicted by Caipirini to be related to S-phase, 84% were correctly assigned, and Caipirini found 43% of all the abstracts known to be S-phase related. To account for the fact that some abstracts belonged both to the training and to the classified set (which can be a significant issue because the classifier gets to 'see' documents of known class and this in turn can influence performance assessment), we also calculated precision and recall after having removed the overlap (i.e., after excluding from set C abstracts from the training set): there were only minor differences observed; the recall reduced to 41% and the precision remained the same, i.e., 84%.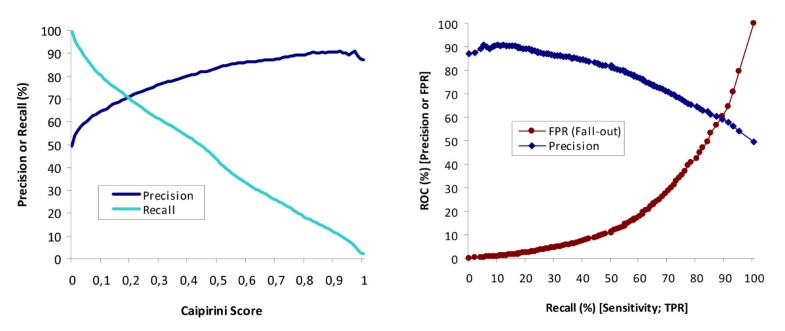 Another notable characteristic feature of the dataset is the 50% precision at 100% recall (see Figure 4), which implies a perfectly balanced test data set. Indeed, the two queries result in abstract lists of comparable size (see Table 3). However, such balance is unrealistic in information retrieval where 'uninteresting' is far more prevalent than 'interesting' and we used the same input gene sets to classify the results of a final query that specified a set of ~2,200 abstracts known to be related to the cell-cycle, but where the exact cell-cycle phase was not annotated with MeSH terms. For this set, we manually checked the top 20 abstracts judged by Caipirini to be most likely related to the S-phase. We found that four of these abstracts explicitly mentioned terms related to the S-phase (e.g., 'S-phase', 'DNA replication', or 'DNA repair'). The remaining sixteen abstracts did not explicitly mention processes associated with the S-phase, but they mentioned proteins and genes known to be related to the S-phase (e.g., VCP, p21, p16, Sp1, E2F, MLH1, and BRCA1) - several of them were included in the input set A.
Unlike the other two cell-cycle queries, where the correct assessment of each abstract could be determined automatically, for the third case we did not assess all abstracts since this would have required manually checking the thousands of abstracts predicted to be interesting or uninteresting, which would be quite arduous while producing results of little significance. Thus, for this dataset we did not calculate true precision or recall scores. However, this scenario (as used for the third query) is more similar to how life scientists are likely to use Caipirini, i.e., many will use queries for set C matching large numbers of abstracts, while only a small fraction of the top ranked abstracts will usually be of interest.
The three cell cycle jobs lasted 43, 45 and 39 minutes, respectively.
Benchmarking
Clearly similar in style, Caipirini and MedlineRanker serve similar purposes but in very distinct ways. A first noticeable difference is that MedlineRanker does not facilitate expanding a list of gene identifiers into a list of linked PubMed identifiers. Although this may be considered trivial by some, Caipirini takes this burden off the user's shoulders. Also, a user does not have to search for multiple synonyms of genes, or to disambiguate. To compare the performance of the two tools, we extracted from Caipirini the abstracts associated to each list of genes from the cell cycle dataset and used them as input to MedlineRanker (default settings applied) in order to rank the abstracts retrieved by the first two queries.
Regarding running time, MedlineRanker was a lot faster, performing the task in only seven seconds. We also compared the accuracy of these two tools using the cell cycle dataset, and found that both performed fairly similarly (e.g., for recall 41% MedlineRanker achieves a slightly lower precision of 81%), although Caipirini seems to be slightly more robust (Figure
5
). Thus, since MedlineRanker is much faster with similar performance, it is probably preferable in many cases, except where the user wants to provide gene lists as input.

Arabidopsis Dataset
In addition to gene sets, Caipirini also allows sets of abstracts to be used as input. As part of an ongoing project related to disease resistance in plants [27], we tested Caipirini using sets of abstracts related to the model organism Arabidopsis thaliana. In this case, we used 90 abstracts known to be related to pathogen defense mechanisms in Arabidopsis (set A) and a further 90 abstracts also related to Arabidopsis but that do not discuss pathogen defense mechanisms (set B). We used Caipirini to classify 216 Arabidopsis abstracts (set C) that were afterwards independently checked by three of us (ABS, ACWN, and NMSC) and manually assigned as either related to pathogen defense mechanisms, or not (see Additional file 1). The criteria used included explicit mention of either disease-resistance proteins [28], of signaling hormones or other chemicals involved in disease resistance processes [29], or of processes or pathways involved in the hypersensitive response in plants [30].
Of the 216 abstracts, 122 were assigned to set A and 30 to set B by all curators, whereas for 64 there was disagreement. This spread of results underscores the importance of using several independent annotators in assessing the accuracy of a method: although the criteria for interesting vs. uninteresting abstracts may be relatively clear (as specified above), the interpretation of these criteria can vary considerably from annotator to annotator. Unlike the cell-cycle data, where the correct assessment of each abstract could be determined automatically, for the Arabidopsis data the 'correct' classification was considered to be that defined by the majority vote of the three independent assignments (i.e., 166 for set A and 50 for set B).
When using both sets A and B as input, Caipirini achieved 87% precision (i.e., found 188 correct assignments). Because set C is decomposed in two classes of very different sizes (dominated by set A-like abstracts), we also calculated the Matthew's correlation coefficient and found that Caipirini achieved a good prediction (with correlation equal to 0.6). Of the 24 false positives obtained, fourteen were already ambiguously categorized by manual examination (i.e., one out of the three annotators disagreed; but not the same curator every time), and of the four false negatives, two were also 'ambiguous' (i.e., one of the three annotators disagreed; the same one in both cases). When the curators later focused on the unambiguously annotated as false positive abstracts, they noted that some could be indeed considered as related to resistance, but 'indirectly' (Additional file 2).
In addition, we ran ten different jobs using the same set C but with only the 90 'interesting' Arabidopsis abstracts for set A, and using the random option for set B. These ten runs gave poorer performance than above, with almost all set C abstracts classified as related to set A. This illustrates the benefit of explicitly defining a background set (set B), as it can give more focused results, in this case returning a set of abstracts that almost all relate specifically to pathogen defense mechanisms in Arabidopsis.
Regarding speed, all eleven jobs lasted between 8 and 12 minutes each.
Both the Arabidopsis and cell-cycle datasets used above are available at the Caiprini web site as examples [31].
Discussion
One of our key goals in creating Caipirini was to address the needs of experimentalists interested in using gene lists to guide literature exploration, and to find biologically relevant abstracts even if these do not explicitly mention the input genes. To our knowledge, only Caipirini and MedlineRanker enable this functionality, and Caipirini is the only method that allows the input sets to be defined using lists of genes. For example, a scientist may want to rank literature based on the difference between a set of genes associated to a primary cancer versus those associated with the metastatic form of the same cancer.
Another related goal of Caipirini - not facilitated otherwise by other tools in this way - was to allow the exploration of distinct and disjoint literature sets, gaining insight into the similar concepts they may share. For example, it would be possible to use Caipirini with the Arabidopsis dataset to find abstracts that discuss resistance mechanisms in other plants (see Additional file 2), effectively using knowledge from one organism to learn more about equivalent functions in similar ones. Caipirini supports such usages, particularly via the advanced options, which allow different types of keywords to be enabled or disabled - we believe that the combination of features provided here is currently not available in any other service.
In principle, methods such as Caipirini that use two input sets in this way should be capable of high precision, i.e., we would expect Caipirini to be able to find sets of abstracts with high likelihood to be related to underlying phenomena of interest. This is indeed what we see for the cell-cycle benchmark presented in Figure 4, with a precision of 84% at a Caipirini score of 0.5, and with higher Caipirini scores giving progressively better precision and fewer false positives. Thus for the biologist interested in using gene sets to search literature, our results suggest that many of the abstracts found by Caipirini are likely to correctly reflect the underlying biological difference between the two gene sets, and hence to be of interest.
Nevertheless, the performance (i.e., precision and recall) can vary greatly with different input datasets, and using Caipirini for a task may find only a moderate fraction of all relevant literature, as in the case of the cell cycle dataset. On the other hand, as shown by the Arabidopsis example, even in cases where the input data consists of only a small number of interesting and uninteresting cases, it can still be possible to obtain good results provided that the input is carefully selected to reflect the focused question that is asked.
Furthermore, using two input sets offers an interesting possibility to iteratively improve performance, e.g., by adding falsely classified abstracts to the 'uninteresting' input set, and re-running the classification. Such an interactive approach is currently limited slightly by the fact that Caipirini does not yet allow gene and abstract identifiers to be added to the same input set. In the near future we plan to enable such mixed input sets, and hence to further improve the ability to iteratively increase performance.
Clearly, a key limitation of Caipirini currently is its slow performance, especially for large input sets containing many well-studied genes (i.e., genes that are linked to many Medline abstracts). This is the cost paid for allowing users to train SVMs matching their particular input data every time. In the near future, we plan several changes that may improve the speed significantly. Other extensions include optional features, such as the users choosing whether they wish to be notified via e-mail when a task has finished, or whether they want statistical significance tests to be performed additionally. Furthermore, while Caiprini is currently best suited for two-set problems, we also plan to enable users to enter multiple data sets, or to save and re-use previous results in order to be able later to classify new sets of abstracts (e.g., the literature of each new month).
Conclusions
To our knowledge Caipirini is the only service that can search literature directly based on gene sets. Though it can be slow, Caipirini allows some quite complex, new operations for extracting biological insight from gene sets. Therefore, Caipirini gives the research community a new way to unlock hidden knowledge from gene sets derived via high-throughput experiments.
Declarations
Acknowledgements and Funding
European Molecular Biology Laboratory, by the European Union Framework Programme 6 grant 'TAMAHUD' (LSHC-CT-2007-037472, in part).
Authors' Affiliations
(1)
Structural and Computational Biology Unit, European Molecular Biology Laboratory (EMBL), Heidelberg, Germany
(2)
Computational Biology and Data Mining Group, Max-Delbrück Center for Molecular Medicine, Berlin, Germany
(3)
Bioinformatics Graduate Program, Federal University of Paraná - UFPR (SEPT), Curitiba, Brazil
(4)
Departamento de Genética, Laboratório de Genética e Biotecnologia Vegetal, Centro de CiênciasBiológicas, Universidade Federal de Pernambuco, Recife, Brasil
(5)
ESAT-SCD/IBBT-K.U. Leuven Future Health Department, KatholiekeUniversiteit Leuven, Leuven, Belgium
(6)
LIFE Biosystems GmbH, Heidelberg, Germany
(7)
Garvan Institute of Medical Research, Sydney, Australia
(8)
Division of Mathematics, Informatics, and Statistics, CSIRO, Sydney, Australia
(9)
Luxembourg Center for Systems Biomedicine, University of Luxembourg, Luxembourg
Copyright
© Soldatos et al; licensee BioMed Central Ltd. 2012
This article is published under license to BioMed Central Ltd. This is an Open Access article distributed under the terms of the Creative Commons Attribution License (http://creativecommons.org/licenses/by/2.0), which permits unrestricted use, distribution, and reproduction in any medium, provided the original work is properly cited.