Research

Open Access

Open Peer Review
This article has Open Peer Review reports available.
RNA-sequence data normalization through in silico prediction of reference genes: the bacterial response to DNA damage as case study
Received: 28 May 2017
Accepted: 22 August 2017
Published: 5 September 2017
Abstract
Background
Measuring how gene expression changes in the course of an experiment assesses how an organism responds on a molecular level. Sequencing of RNA molecules, and their subsequent quantification, aims to assess global gene expression changes on the RNA level (transcriptome). While advances in high-throughput RNA-sequencing (RNA-seq) technologies allow for inexpensive data generation, accurate post-processing and normalization across samples is required to eliminate any systematic noise introduced by the biochemical and/or technical processes. Existing methods thus either normalize on selected known reference genes that are invariant in expression across the experiment, assume that the majority of genes are invariant, or that the effects of up- and down-regulated genes cancel each other out during the normalization.
Results
Here, we present a novel method, moose 2 , which predicts invariant genes in silico through a dynamic programming (DP) scheme and applies a quadratic normalization based on this subset. The method allows for specifying a set of known or experimentally validated invariant genes, which guides the DP. We experimentally verified the predictions of this method in the bacterium Escherichia coli, and show how moose 2 is able to (i) estimate the expression value distances between RNA-seq samples, (ii) reduce the variation of expression values across all samples, and (iii) to subsequently reveal new functional groups of genes during the late stages of DNA damage. We further applied the method to three eukaryotic data sets, on which its performance compares favourably to other methods. The software is implemented in C++ and is publicly available from http://grabherr.github.io/moose2/.
Conclusions
The proposed RNA-seq normalization method, moose 2 , is a valuable alternative to existing methods, with two major advantages: (i) in silico prediction of invariant genes provides a list of potential reference genes for downstream analyses, and (ii) non-linear artefacts in RNA-seq data are handled adequately to minimize variations between replicates.
Keywords
RNA-seqTranscriptomicsNormalizationGene expressionDNA damageStress response
Background
RNA-sequencing (RNA-seq) has revolutionized transcriptomics by means of sensitivity, accuracy, and resolution. Additionally, RNA-seq does not rely on prior knowledge of whether any particular RNA is present, and therefore represents a powerful tool for the identification of unknown RNAs. In a typical RNA-seq experiment, total RNA or a particular RNA fraction is isolated from samples that either represent different biological conditions, or replicates from the same condition. After validation of RNA quality, the RNA is subjected to cDNA synthesis via primers that specifically match adapter sequences, or through random priming. If random priming is used, adapter sequences are introduced during subsequent steps. The cDNA is finally amplified by PCR to yield ready-to-use libraries that can be sequenced using different technologies. RNA-seq indirectly measures the abundance of transcripts by the number of reads or fragments generated from a particular transcript. Since the total amount of RNA present in a cell or sample is unknown, data for each sample are either normalized individually by the total read counts per sample and transcript length into RPKM or FPKM values [
1
], or over all samples by methods such as Upper Quartile (UQ) normalization [
2
], DESeq2 [
3
], or Trimmed-Mean of M-values (TMM) normalization [
4
] (for a review, see ref. [
5
]). Assumptions underlying the latter methods are that: (i) the mean expression of genes, on which the normalization is computed, does not change across experiments; and (ii) that a single global scaling factor is valid over the entire dynamic range of expression. Importantly, normalization methods may perform poorly if the assumptions do not match the biological experiment [
6
]. As an alternative to global scaling factors, the use of reference genes, i.e. genes that are invariable in expression regardless of condition or sample, has been suggested [
7
,
8
]. Here, we present a novel method,
moose
2
(Fig.
1
), which uses known reference genes if available, and additionally predicts reference genes in silico by a dynamic programming (DP) scheme. Application of a polynomial model then allows for normalizing of the entire data set in a non-linear fashion depending on transcript abundance. Hence, our approach specifically aims at satisfying the assumptions that: (i) there is a small, identifiable subset of genes that is not differentially expressed in the given experiment; and (ii) that a quadratic function approximates any non-linear characteristics of expression measurements across the dynamic range.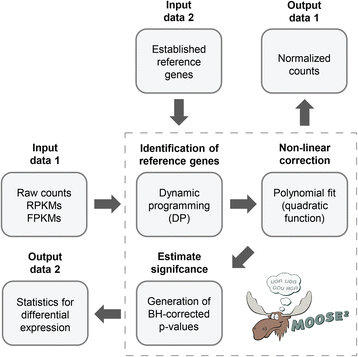 To validate this method, we examined the bacterial response (in E. coli) to the chemotherapeutic drug mitomycin C (MMC), which we investigated at early and late time-points by RNA-seq. MMC is a potent DNA crosslinker that will ultimately generate double-stranded breaks (DSB) in DNA and thereby activate the so-called SOS response. The SOS response is initiated whenever DNA damage occurs. This generates single-stranded DNA (ssDNA) which is bound by the RecA protein. RecA-nucleofilaments subsequently trigger autocleavage of the LexA repressor that controls a regulon of >50 genes in E. coli, many of which have functions in DNA repair [9–12]. The response to DNA damage has been intensively studied by microarray analysis of E. coli cells that have been treated with UV light, MMC, or quinolone antibiotics [13–17]. However, none of these studies followed the response to high levels of DNA damage over an extended period of time, nor did they capture possible, more subtle changes in gene expression. Here, relative changes in transcript levels were calculated from an RNA-seq study of E. coli cells treated with a high dose of MMC for up to 90 min. Moose 2 performed better than the other tested normalization methods in terms of (i) the Euclidean distances, which are lower in within-replicate comparisons than in cross-condition comparisons, as is to be expected; and (ii) minimizing the variation of expression values across samples. Thus, the moose 2 results could be used to predict the expression profiles of functional groups, such as the LexA regulon, which gave exciting new insights into the bacterial response after prolonged DNA damage. In addition to this bacterial system, we also applied the approach to three eukaryotic data sets and compared the results to other methods.
Discussion
Adequate normalization of RNA-seq data is an essential step required to reliably predict differentially expressed genes [2]. The correct choice of a normalization method depends on the assumptions that are valid for the particular biological system under investigation. For example, the RPKM method (normalization by library size) assumes that the RNA amount per cell is not changed between conditions, an assumption that is easily violated by differential expression of highly expressed genes [2, 5]. Methods such as DESeq2 and TMM assume that the number of up- and down-regulated genes are balanced between conditions, i.e. expression changes are symmetric. These methods might, therefore, perform poorly when the symmetry of expression changes is skewed towards one direction [6]. The genomes of bacteria comprise relatively few genes (e.g. E. coli: ~4500) compared to other organisms, thus any response to outside stimuli might involve a large fraction of genes. This can be exemplified by bacteria exposed to extreme stresses [13, 32] or environments such as macrophages [33, 34], where hundreds of genes are differentially expressed, representing up to one fourth of the whole genome. Even though expression changes are not necessarily asymmetric, many experiments show a clear trend towards either side of regulation. As an alternative to the aforementioned methods, expression data can be normalized by applying control genes, which are either external controls (spike-ins) [7, 35, 36], or invariant genes [2, 37]. The underlying assumption for the latter is that at least a small number of genes exist that are not subject to changes in expression in the given experiment. Here, we applied a new method, moose 2 , which first identifies such a small subset of invariant genes in silico, and further applies different normalization factors based on the expression strength of each individual gene. In an experiment exposing E. coli to high doses of the DNA damaging agent MMC for an extended period of time, global changes in gene expression can be expected [13, 15], and were validated here (Additional file 16). Importantly, gene expression changes might not be symmetric, since the log2 ratio distributions (Fig. 2d) are skewed towards up- and down-regulation for the 30-to-0-min and 90-to-0-min comparisons, respectively. The assumption of symmetric gene expression changes is therefore unjustified, thus necessitating an approach that relies on a different assumption, as the existence of invariant genes. The dynamic programming step in the moose 2 pipeline, guided by six established reference genes, predicted 27 additional genes to be expressed at stable levels across experiments. The majority of these invariant genes are known to perform housekeeping functions. We do note, however, that the term "invariant" only applies to genes that do not change expression in any given experiment, so that the selection of these genes depends on the conditions. While the prediction of in silico genes appears stable in the experiments presented here, we caution that there are cases in which this scheme might perform poorly, notably when analyzing large numbers of conditions, or expression across species. Furthermore, in case invariant genes do not exist, the main assumption of moose 2 is violated and alternative methods are preferable. For example, global changes in gene expression, where most of the genes are up-regulated, have been observed in tumor cells and termed transcriptional amplification [38]. In this special case, invariant genes do not exist and external controls (spike-ins) are needed for adequate normalization of RNA-seq data: in the study of Lovén et al. [35] cyclic loess normalization on the spike-ins was successfully applied. Hence, there are limitations to the usage of moose 2 , even though it is expected to perform well for most experimental settings. However, the experimentalist should in every case carefully check the justification of the assumptions before deciding on a normalization method.
Reduction of in-between replicate variation by non-linear correction schemes has already been suggested for microarray experiments [39–41], and our data indicate the general strength of such methods in removing technical bias in expression data as well. Interestingly, for our E. coli data set, we found that the quadratic correction term used in the moose 2 pipeline performs best, when based on in silico prediction of invariant genes (Additional file 9). The in silico prediction step is clearly a reasonable basis for a non-linear transformation. The accuracy of subsequently calculated log2 ratios was experimentally verified through qRT-PCR for selected genes (Additional file 14). Moose 2 , therefore, allows for precisely identifying differentially expressed genes, e.g. using Limma [23], or other methods that are continuously being developed and refined in parallel to advances in RNA-seq technologies [42].
The costs for high-throughput sequencing have rapidly decreased over the years, and sequencing of any prokaryotic or eukaryotic organism has become achievable. However, for many organisms, well-annotated reference genomes are unavailable. De novo transcriptome assembly represents an attractive strategy to assess non-sequenced organisms, despite being a bigger informatics challenge than reference-based transcriptome assembly [43, 44]. Furthermore, for downstream analyses such as qRT-PCR, robust reference genes are often needed, but generally not known for non-sequenced organisms. Identification of invariant genes by moose 2 might help to establish reference genes for accurate normalization of qRT-PCR [45]. Different methods have been described for data-driven identification of reference genes [37], and ideally, these methods should be combined with moose 2 to define a reliable set of reference genes. We predict that applying de novo transcriptome assembler together with reference gene identification will benefit the establishment of new model organisms.
As a showcase, we used the moose 2 approach to investigate the response of E. coli to prolonged DNA damage caused by MMC. Since there are many treatments that can evoke DNA damage, like ionizing radiation, UV light, DNA gyrase inhibitors, and DNA crosslinkers, the gene expression changes presented here are considered as the MMC-specific response to DNA damage. Also, in a comparative study, aiming to define a global network scheme based on compilations of microarrays, it was found that the SOS response is the only transcriptional response that is consistently triggered upon DNA damage regardless of the toxic agent [16]. As expected and observed here, the degree of induction of several SOS response genes relies on the HI value of the corresponding LexA-box: the lower the HI value, the higher the induction (Fig. 4b). The 90-to-30-min comparison however revealed that most LexA-dependent genes clearly decrease in expression level at the late time-point, which cannot be attributed to their HI values. Since most of the LexA-dependent genes solely depend on LexA and Sigma70 for transcription [28], it is likely that transcript stability and other post-transcriptional mechanisms are pivotal. The strong expression increase of the toxin gene tisB (Fig. 4a) is of particular interest, since TisB targets the inner membrane to impair the proton motive force, which then contributes to persister cell formation under DNA-damaging conditions [46–49]. Persisters are transiently drug-tolerant cells that are arrested in their growth due to the action of toxins. The TisB-dependent growth arrest might be accompanied by downstream expression changes, relevant to the persister phenomenon. Gene expression at an early time-point of DNA damage (here 30 min) generally represents the effort to counteract the stressful condition, i.e. inhibiting cell division and repairing DNA damages. The situation changes at late stages (here 90 min), when a fraction of cells has experienced a high level of DNA damage and consequently died, while the surviving subpopulation (i.e. persisters) have only faced moderate DNA damage [50]. So, the SOS response is expected to decline, and this is exactly what we observe (Fig. 4a). Since our RNA-seq data are based on bulk experiments, conclusions have to be drawn cautiously, and some of the gene expression changes at 90 min may reflect the surviving subpopulation. The clear up-regulation of transporters and enzymes involved in purine and amino acid metabolism (Fig. 5b) might factor into long-term survival strategies of the bacteria. Interestingly, the same GO terms have been found to be under-represented during short periods of DNA damage [16], and might therefore be highly specific to late adaptation processes.
Conclusions
In summary, we present a novel method, moose 2 , and show that it corrects for systematic bias in RNA-seq expression data from a bacterial data set by normalizing expression values against a set of genes that were predicted as invariant in silico. Moreover, when applied to more complex eukaryotic data sets, the method performs consistently as well as, or better than, other RNA-seq normalization methods, indicating that its algorithm is also applicable to a wider set of organisms. The software is modular and can easily be integrated with other methods that require a set of invariant genes for normalization. Moose 2 is written in C++ and freely available as source code under the General Public License from http://grabherr.github.io/moose2/.
Declarations
Acknowledgements
We thank Mirthe Hoekzema for comments on the manuscript and Klev Diamanti for support with R statistical language. Sequencing was performed by the SNP&SEQ Technology Platform in Uppsala. The facility is part of the National Genomics Infrastructure (NGI) Sweden and Science for Life Laboratory. The SNP&SEQ Platform is also supported by the Swedish Research Council and the Knut and Alice Wallenberg Foundation.
Funding
This work was in part supported by a Swedish Research Council Formas grant to M.G.G. We further acknowledge the European Molecular Biology Organization (EMBO) for a long-term fellowship [ALTF 62–2012 to B.A.B.] and the German Research Foundation (DFG) for a research fellowship [BE 5210/1–1 and BE 5210/2–1 to B.A.B.]. Lab work was funded through the Swedish Research Council [VR 621–2010-5233 to E.G.H.W.].
Availability of data and materials
Project name: moose 2 .
Project home page: http://grabherr.github.io/moose2/
Operating system: Linux.
Programming language: C++.
License: GNU GPL.
The datasets generated and analyzed during the current study, including the read counts, are publicly available from https://github.com/grabherr/moose2 under the General Public License (GPL), or are included in this published article and its additional information files.
Authors' contributions
BAB, EGHW, and MGG designed the work. BAB performed the experiments. BAB, TK, TKäl, and MGG analyzed the data. All authors contributed to writing the manuscript. All authors read and approved the final manuscript.
Ethics approval and consent to participate
Not applicable.
Consent for publication
Not applicable.
Competing interests
The authors declare that they have no competing interests.
Publisher's Note
Springer Nature remains neutral with regard to jurisdictional claims in published maps and institutional affiliations.
Open AccessThis article is distributed under the terms of the Creative Commons Attribution 4.0 International License (http://creativecommons.org/licenses/by/4.0/), which permits unrestricted use, distribution, and reproduction in any medium, provided you give appropriate credit to the original author(s) and the source, provide a link to the Creative Commons license, and indicate if changes were made. The Creative Commons Public Domain Dedication waiver (http://creativecommons.org/publicdomain/zero/1.0/) applies to the data made available in this article, unless otherwise stated.
Authors' Affiliations
(1)
Institut für Mikrobiologie und Molekularbiologie, Justus-Liebig-Universität, Giessen, Germany
(2)
Department of Immunology, Genetics and Pathology, Uppsala University, Uppsala, Sweden
(3)
Department of Medical Biochemistry and Microbiology, Uppsala University, Uppsala, Sweden
(4)
Bioinformatics Infrastructure for Life Sciences (BILS), Science for Life Laboratories, Uppsala University, Uppsala, Sweden
(5)
Department of Cell and Molecular Biology, Uppsala University, Uppsala, Sweden