Software article

Open Access

Open Peer Review
This article has Open Peer Review reports available.
Arete – candidate gene prioritization using biological network topology with additional evidence types
Received: 24 August 2016
Accepted: 12 June 2017
Published: 6 July 2017
Abstract
Background
Refinement of candidate gene lists to select the most promising candidates for further experimental verification remains an essential step between high-throughput exploratory analysis and the discovery of specific causal genes. Given the qualitative and semantic complexity of biological data, successfully addressing this challenge requires development of flexible and interoperable solutions for making the best possible use of the largest possible fraction of all available data.
Results
We have developed an easily accessible framework that links two established network-based gene prioritization approaches with a supporting isolation forest-based integrative ranking method. The defining feature of the method is that both topological information of the biological networks and additional sources of evidence can be considered at the same time. The implementation was realized as an app extension for the Cytoscape graph analysis suite, and therefore can further benefit from the synergy with other analysis methods available as part of this system.
Conclusions
We provide efficient reference implementations of two popular gene prioritization algorithms – DIAMOnD and random walk with restart for the Cytoscape system. An extension of those methods was also developed that allows outputs of these algorithms to be combined with additional data. To demonstrate the utility of our software, we present two example disease gene prioritization application cases and show how our tool can be used to evaluate these different approaches.
Keywords
Gene prioritisationBiological network analysisCytoscapeRandom walkDIAMOnD
Background
Identification of genes associated with a disease is an essential first step in developing novel treatments and gaining better insight into the underlying mechanisms of disease. Many widely employed contemporary experimental approaches, like genome-wide association studies (GWAS) or differential gene expression analysis, yield lists of genes potentially enriched for promising candidates [1], which then need to be further refined and verified experimentally. Network-based prioritization approaches are one of promising strategies that can effectively combine and interpret large volumes of prior knowledge about different types of interactions between biological entities. In particular, two broad strategies of network-based prioritization have emerged – those that consider global network topology by employing some type of a diffusion or Markov process formalism [2, 3] and those that focus on local topology in specific network neighborhoods [4]. Biological networks can also be further enriched by additional types of data that can potentially be used to further increase performance of network topology based methods.
Although a veritable variety of disease gene prioritization solutions are now available, the efforts so far have chiefly focused on leveraging specific, pre-defined types of data. In this respect it is possible to identify several types of typical approaches. The first approach is to develop a specialized integrated knowledgebase resource to support gene prioritization analysis. Some prominent examples in this category include PrixFixe [5], ENDEAVOR [6], GeneMANIA [7], Gene Prospector [8] and DAPPLE [9]. The advantages of such a setup is an ability to closely tailor the analysis method to make best use of these data and being able to pre-compute some of the more time-consuming analysis steps. However this comes at the cost of restricting the user's choices and necessitates continued maintenance of the underlying datasets to ensure they remain relevant. Given the logistic constraints, access to such methods is usually delivered via web page-based interfaces [6, 8, 9] or web services [5, 7], and therefore may not be suitable for cases where confidentiality and data security is important. Approaches of the second type offer some data acquisition functionality, such as calling external web services to further enrich the input provided by the user. Tools following this strategy include Genotator, which performs real-time integration of eleven clinical genetics resources [10], GPEC, which can query different annotation databases to build up the seed set of genes [11] and JEPETTO that can dynamically retrieve additional information from pathway databases [12]. In this case, while the data can be easily kept up-to-date, the analysis approach is usually built around those specific types of data. And lastly, although some tools can work on user-provided datasets, they are only capable of using some pre-defined types of information [13, 14]. Some notable examples of such tools include NetworkPrioritizer [15] and iCTNet [16]. NetworkPrioritizer supports computation of multiple centrality measures and allows them to be combined using several rank aggregation algorithms. iCTNet is an example of a database-based approach, where a prioritization algorithm relies on a pre-integrated and developer-maintained database. In contrast to these two methods, our approach is based on similarity to a set of representative seeds and allows incorporation of both network-based and other data in the form of node annotations. Due to the extent of previous effort in disease gene prioritization tool development, only very brief summary of them could be provided here and for a more comprehensive discussion of the subject we would like to recommend the following reviews [1, 17–19].
Given potentially complex etiology of diseases and diverse types of data collected in biomedical research, we believe in potential benefits of a more flexible approach, more agnostic with respect to types of data. The benefits of such an approach would be to give greater control to the users by allowing them to make the best possible use of their own project-specific datasets as well as any publically available information. Our tool, Arete, combines network analysis capabilities with integrative analysis and in doing so allows users to further enrich these results with their own information of different types. The network-based analysis component offers two modern prioritization algorithms: random walk with restart [2] and DIAMOnD [4]. Our tool is implemented as an app plug-in for the popular Cytoscape [20] graph analysis suite in order to make the best possible use of the synergies with data acquisition and analysis capabilities of this system and its rich ecosystem of plug-ins. Our primary goal for this tool is to facilitate interactive, visual exploration of the network through means of filtering and graph annotation to direct users to sets of genes enriched for promising candidates.
Results and discussion
At the time of writing, we were aware of three tools that offer different variants of the random walk algorithm for the Cystoscope suite, however, all of these offered an approximate, iterative solution rather than an exact one. One of the advantages of the exact solution is that it has been shown to be robust to restart probability parameter [2] and therefore will produce a near-optimal result without the need for time-consuming optimisation. At present, Arete is also the first tool to provide an implementation of DIAMOnD algorithm in Cytoscape. In terms of providing the evaluation functionality, the only other tool also offering it is GPEC, but GPEC has somewhat limited dataset customization functionality and is no longer available for Cytoscape 3.0 or later. As we outlined in the introduction, with respect to integrative analysis, the diversity of data and integration methods being used is quite extensive. However, the main focus of most efforts has so far been to optimally exploit particular public datasets, or to closely couple the analysis method with specific, pre-generated datasets. To the contrary, our intention has been to develop an approach that is flexible and generic. In combination with the easy-to-use data import and acquisition methods of Cytoscape system our approach allows users to build and leverage their own resources. Additional flexibility is achieved by: (1) offering performance evaluation capabilities that can be used to explore and understand the impact of particular features and (2) interactive, user-driven exploration of results in the graph interface.
The first evaluation example has shown that our proposed integration method can be successfully used with network topology-based features to improve results (Fig.
3
). In particular, when combined together, DIAMOnD and integrative prioritization (iRF) performed substantially better relative to when these approaches where used in isolation (Fig.
3a
). It can be seen in Fig.
3a
that according to our evaluation, the RWR method performed best overall, however the picture becomes more complicated when ranking of individual diseases by different methods is examined (Fig.
4c
). As diseases are highly heterogeneous, it is to be expected that different network-based properties and expression patterns will not have the same importance in all of the cases. Therefore, we have observed cases where either of the two network-based methods has performed best (Fig.
4a and b
). Similarly, when DIAMOnD is compared with RWR without additional data, it did outperform RWR in 16 out of 69 cases, which is consistent with what was previously reported in [
4
]. These results highlight potential benefits of having access to several distinctive network-based prioritization approaches and alternative perspectives they offer.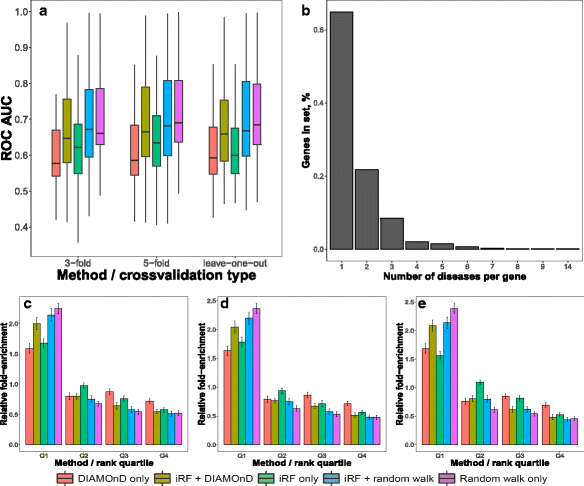 In addition to ROC-AUC analysis, we have also looked at the fold-enrichment, which, again, was explored using 3-fold, 5-fold and leave-one-out cross validation schemes (Fig. 3c-d). For this analysis we have split the ranked lists into four quartiles and compared the actual distribution of known disease genes with the one expected by chance. For all of the methods, a substantially higher enrichment was predominantly achieved in the first quartile, where between 1.6 and 2.4-fold more relevant genes were recovered.
Disease-related genes can play a role in more than one disease and are often associated with high network centrality, which is emphasized both by incorporation of network-specific properties via iRF and by the RWR algorithm. Potentially, this can cause a positive bias with respect to those genes, as inevitably there will be some overlap between sets of genes for different diseases and high centrality genes are more likely to be in this overlap. To explore this possibility, we have looked at the distribution of multi-disease genes in our dataset (Fig. 3b) and investigated whether such effects had substantial influence on performance (Additional file 1: Figure S1) As about 67% of all genes in our dataset were only involved in one disease, we have split our data into a single-disease and multi-disease subsets (2 or more associated diseases per gene) and re-calculated all of the performance statistics for these subsets. Although the performance was slightly higher for multi-disease genes according to both ROC- AUC and fold-enrichment metrics, this difference was too small to indicate a definite and substantial bias in this case (Additional file 1: Figure S1).
The example prioritization of MS-related genes using transcriptomics data has shown that our method can be effectively used with such data to identify promising disease-associated genes (Fig.
5a-b
). In this case, the iRF used on transcriptomics data has produced an overall highest fold-enrichment in the first quartile and the best ROC-AUC. DIAMOnD algorithm has not performed well in this case (ROC-AUC of 0.562) and, in contrast to the overall trend from use-case 1, no benefit was observed from combining it with transcriptomics data via iRF (ROC-AUC of 0.722), as the overall performance was still lower than iRF alone (ROC-AUC of 0.796). Random walk with restart performed substantially worse than iRF (ROC-AUC 0.678). In combination with iRF it has produced a comparable ROC-AUC score (0.783) and therefore did not lead to a substantial decline in performance relative to iRF, as was the case for iRF + DIAMOnD.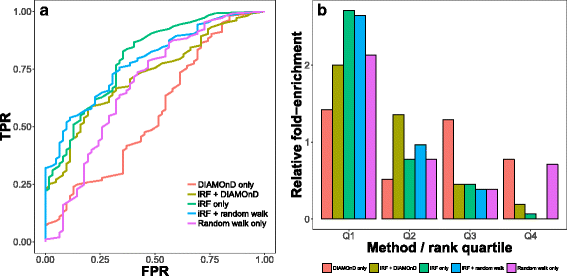 To conclude, as previously noted in [21], our results from use-case one also hint at the possibility that at least some of predictive network-based properties may be particularly effective only in specific cases and consequently heterogeneity likely exist between such properties of genes associated with different diseases. The second use-case illustrated how our approach can be used to identify most relevant disease-causing genes from transcriptomics data. These results indicate that even without further optimization, all of the methods provided in Arete can be suitable for identifying approximately relevant gene sets from experimental data. Therefore, in combination with interactive visualization capabilities of the Cytoscape system itself, Arete can effectively support analysis of complex biological networks by facilitating identification of smaller, meaningful gene sets for further manual exploration by the user.
Conclusion
Although large and diverse number of disease gene prioritization software are now available, emphasis has been primarily on approaches that either work on a specific pre-integrated knowledgebases or public web resources; or are only able to consider particular types of biomedical data by design. At the same time, biomedical application cases often rely on their own 'omics datasets, data from different studies and experiments and highly specialized expert knowledge. This creates a niche for a more generalized tool that can allow non-technical users to exploit project-specific integrated datasets, identify promising combinations of predictive features and find likely candidate genes, which are more directly supported by context-specific evidence. Our proposed solution fills this niche by achieving a pivot between flexibility and ease-of-use, while at the same time also delivering adequate levels of performance and evaluation capabilities for comparing different setups. Using the example analysis presented in this paper, we also demonstrated that our proposed multiple evidence integration method can further enhance the performance achievable by network topology-based methods alone.
Declarations
Acknowledgements
We would like to acknowledge the assistance offed by Takashi Morizono with deploying and providing continued maintenance and support for the Arete website.
Funding
This work was supported by the Grant-in-Aid for RIKEN IMS and CREST from the Japan Science and Technology Agency.
Availability of data and materials
Source code, pre-compiled app, documentation and example files used in this paper are available at Arete homepage (http://emu.yokohama.riken.jp/arete/arete.html) under the conditions of the GNU GPL v3 licence. The website includes also includes a guide in the form of a step-by-step tutorial, which can be used to reproduce the analysis results.
Authors' contributions
AL developed the software, designed the website and prepared the example application datasets, KAB assisted with data analysis and preparation of the manuscript. TT was involved in the development of core ideas behind this work, provided project supervision and contributed to the writing of the manuscript. All authors read and approved the final manuscript.
Competing interests
The authors declare that they have no competing interests.
Consent for publication
Not applicable.
Ethics approval and consent to participate
Not applicable.
Publisher's Note
Springer Nature remains neutral with regard to jurisdictional claims in published maps and institutional affiliations.
Open AccessThis article is distributed under the terms of the Creative Commons Attribution 4.0 International License (http://creativecommons.org/licenses/by/4.0/), which permits unrestricted use, distribution, and reproduction in any medium, provided you give appropriate credit to the original author(s) and the source, provide a link to the Creative Commons license, and indicate if changes were made. The Creative Commons Public Domain Dedication waiver (http://creativecommons.org/publicdomain/zero/1.0/) applies to the data made available in this article, unless otherwise stated.
Authors' Affiliations
(1)
Laboratory for Medical Science Mathematics, RIKEN Center for Integrative Medical Sciences, Tsurumi, Yokohama, Japan
(2)
Department of Medical Science Mathematics, Medical Research Institute, Tokyo Medical and Dental University, Bunkyo-ku, Tokyo, Japan
(3)
CREST, JST, Tokyo, Japan