Short report

Open Access

Open Peer Review
This article has Open Peer Review reports available.
Network-based analysis of genetic variants associated with hippocampal volume in Alzheimer's disease: a study of ADNI cohorts
Received: 7 July 2015
Accepted: 14 January 2016
Published: 19 January 2016
Abstract
Background
Alzheimer's disease (AD) is a neurodegenerative disease that causes dementia. While molecular basis of AD is not fully understood, genetic factors are expected to participate in the development and progression of the disease. Our goal was to uncover novel genetic underpinnings of Alzheimer's disease with a bioinformatics approach that accounts for tissue specificity.
Findings
We performed genome-wide association studies (GWAS) for hippocampal volume in two Alzheimer's Disease Neuroimaging Initiative (ADNI) cohorts. We used these GWAS in a subsequent tissue-specific network-wide association study (NetWAS), which applied nominally significant associations in the initial GWAS to identify disease relevant patterns in a functional network for the hippocampus. We compared prioritized gene lists from NetWAS and GWAS with literature curated AD-associated genes from the Online Mendelian Inheritance in Man (OMIM) database. In the ADNI-1 GWAS, where we also observed an enrichment of low p-values, NetWAS prioritized disease-gene associations in accordance with OMIM annotations. This was not observed in the ADNI-2 dataset. We provide source code to replicate these analyses as well as complete results under permissive licenses.
Conclusions
We performed the first analysis of hippocampal volume using NetWAS, which uses machine learning algorithms applied to tissue-specific functional interaction network to prioritize GWAS results. Our findings support the idea that tissue-specific networks may provide helpful context for understanding the etiology of common human diseases and reveal challenges that network-based approaches encounter in some datasets. Our source code and intermediate results files can facilitate the development of methods to address these challenges.
Keywords
Hippocampal VolumeLate Mild Cognitive ImpairmentPermissive License
Findings
Alzheimer's disease (AD) is a neurodegenerative disease that affects memory and behavior. Around 70 % of the risk is expected to be attributable to genetics [1]. Including the well documented association with the gene APOE, previous studies have identified 22 susceptibility loci for late-onset Alzheimer's disease (LOAD), of which 11 were recently reported by a large meta-analysis [2]. Most existing genetic analyses lack the affected tissue context, which is crucial to the precise actions of genes, though some eQTL analyses have begun to address this problem. For example, analysis of eQTLs in brain samples from control individuals and those with LOAD identified variants associated with changes in gene expression in the brain [3].
To identify genes that play a tissue-specific role in disease, we used the recently developed network-wide association study (NetWAS) method, which takes the tissue-specific functional roles of genes into account, to identify genes associated with differences in hippocampal volume [4]. We applied the NetWAS approach to genome-wide association study (GWAS) results from ADNI using hippocampal volume as an endophenotype. NetWAS identifies features in the hippocampus tissue-specific network that are associated with nominally significant GWAS p-values, and it uses these features to identify potentially novel AD gene associations. We evaluated the extent to which the NetWAS approach using a hippocampus network could identify AD-associated genes and compared results to the GWAS alone.
Results and discussion
Using VEGAS, in phase I of the analysis we converted SNP-level association statistics from two different ADNI studies into two sets of gene-level association statistics for the hippocampal volume phenotype. These statistical associations were reprioritized in phase II using NetWAS analyses that leveraged a functional network for the hippocampus performed across 1000 independent sets of five-fold cross validation. To generate an aggregate list, we summed the ranks for each NetWAS. Tabular complete results for each of these analyses are available in the source code repository associated with this paper (ADNI-1 VEGAS: data/vegas_adni1.xls; ADNI-2 VEGAS: data/vegas_adni2.xls; NetWAS ADNI-1 and ADNI-2: combined-results.csv).
The underlying idea of NetWAS is that multiple truly associated genes may exhibit nominal, though not genome-wide, significance, which a machine learning method could use to extract phenotype-associated network features. Because NetWAS was developed to identify network commonalities among nominally associated genes, we generated quantile-quantile plots of observed VEGAS gene-wise p-values against a uniform distribution. ADNI-1 showed slight inflation, suggesting that this GWAS might represent a good NetWAS candidate (Additional file 1: Figure S1). ADNI-2 did not show evidence of inflation (Additional file 2: Figure S2).
We compared the GWAS ranked and NetWAS reprioritized genes to genes with a documented association with Alzheimer's disease in the OMIM database using the AUC (Fig.
2
). Comparing the GWAS against the 95 % confidence intervals, we found that the NetWAS ranking more closely matched genes with a documented relationship to AD than genes identified by the initial VEGAS analysis in the ADNI-1 cohort. In the ADNI-2 cohort, this relationship was reversed but less pronounced. In both cases, the scores for the NetWAS performed using the GWAS associations were outside of and above the 95 % bootstrap confidence intervals for the mean of NetWAS with permuted gene-significance.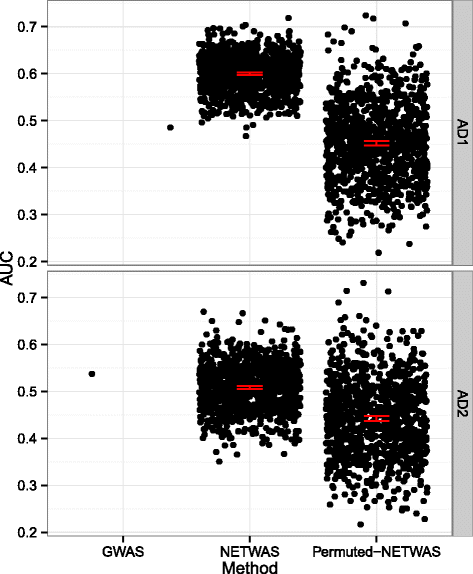 We noted that in the NetWAS results generated from ADNI-1 GWAS, the top 14 genes all belonged to the protocadherin alpha gene cluster (
PCDHA
). This unusual result had not previously been observed in a NetWAS analysis, so we investigated both network-based and association-based explanations. Examination of
p
-values from VEGAS revealed multiple significant
PCDHA
genes (
PCDHA1
-
13, PCDHAC1, PCDHAC2
). These associations could be driven by the same variants within the overall 50 kb window, as the
PCDHA
gene cluster includes multiple overlapping genes (Fig.
3
). In the case that these genes are from the same family, as with
PCDHA
genes, they may also have similar network connectivity patterns, making it difficult for NetWAS to distinguish whether one or all members of the gene family should be most closely associated with the disease. The multiple associated genes by VEGAS also make it difficult for NetWAS to successfully distinguish involved members. These properties can, in certain circumstances, make it difficult to pinpoint the principally associated gene. This multiple-mapping problem has previously been reported to have impact on gene-set based analysis [
16
]. Our analysis demonstrates that users should also be cognizant of this for network-based approaches. Gene-based association tests that attempt to control for SNPs with potential associations with multiple genes may be required to address this challenge.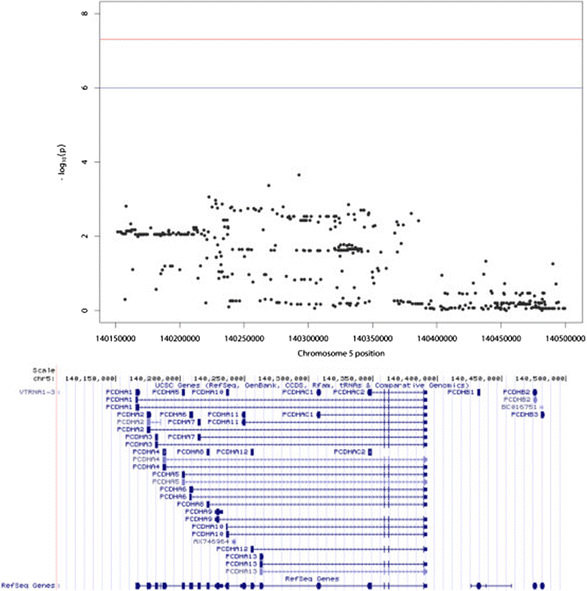 While a 50 kb window can lead to multi-gene mapping, it can also fail to capture long-range interactions between SNPs and genes. For example, SNPs 500 kb from the gene c-MYC were found to directly interact with the promoter of c-MYC, upregulating the expression of this gene [17]. Such relationships cannot be captured by existing gene-based association tests without creating additional multiple-mapping challenges. Gene-based association tests that account for potential long-range interactions through both haplotype structures and 3D chromosomal organization information would help to ameliorate this problem.
In summary, we have performed the first NetWAS for hippocampal volume, or any AD-related phenotype, in AD patients and controls using the ADNI-1 and ADNI-2 cohorts. In the course of this analysis, we identified the need for new gene-based association tests that aim to solve multiple-mapping challenges for SNP-gene relationships.
Declarations
Acknowledgements
We sincerely thank Dr. Jason Moore for his insights during the conception of this work. We also gratefully acknowledge Peter Andrews, Jonathan Fisher, and Dr. Christian Darabos for their technical support.
AS was funded by the Sophomore Science Scholarship Program of Dartmouth College. CSG is supported by the Gordon and Betty Moore Foundation's Data-Driven Discovery Initiative through Grant GBMF4552. Additionally, the work with ADNI was supported by NIH R01 LM010098 and P20 GM103534 at Dartmouth and by NIH R01 LM011360, U01 AG024904, RC2 AG036535, R01 AG19771, P30 AG10133, UL1TR001108, DOD W81XWH-14-2-0151, NCAA 14132004, and NSF IIS-1117335 at IU.
Data collection and sharing for this project was funded by the Alzheimer's Disease Neuroimaging Initiative (ADNI) (National Institutes of Health Grant U01 AG024904) and DOD ADNI (Department of Defense award number W81XWH-12-2-0012). ADNI is funded by the National Institute on Aging, the National Institute of Biomedical Imaging and Bioengineering, and through generous contributions from the following: Alzheimer's Association; Alzheimer's Drug Discovery Foundation; Araclon Biotech; BioClinica, Inc.; Biogen Idec Inc.; Bristol-Myers Squibb Company; Eisai Inc.; Elan Pharmaceuticals, Inc.; Eli Lilly and Company; EuroImmun; F. Hoffmann-La Roche Ltd and its affiliated company Genentech, Inc.; Fujirebio; GE Healthcare; IXICO Ltd.; Janssen Alzheimer Immunotherapy Research & Development, LLC.; Johnson & Johnson Pharmaceutical Research & Development LLC.; Medpace, Inc.; Merck & Co., Inc.; Meso Scale Diagnostics, LLC.; NeuroRx Research; Neurotrack Technologies; Novartis Pharmaceuticals Corporation; Pfizer Inc.; Piramal Imaging; Servier; Synarc Inc.; and Takeda Pharmaceutical Company. The Canadian Institutes of Health Research is providing funds to support ADNI clinical sites in Canada. Private sector contributions are facilitated by the Foundation for the National Institutes of Health (www.fnih.org). The grantee organization is the Northern Alzheimer's Disease Cooperative Study at the University of California, San Diego. ADNI data are disseminated by the Laboratory for Neuro Imaging at the University of Southern California.
Data used in preparation of this article were obtained from the Alzheimer's Disease Neuroimaging Initiative (ADNI) database (adni.loni.usc.edu). As such, the investigators within the ADNI contributed to the design and implementation of ADNI and/or provided data but did not participate in analysis or writing of this report. A complete listing of ADNI investigators can be found at: http://adni.loni.usc.edu/wp-content/uploads/how_to_apply/ADNI_Acknowledgement_List.pdf.
Open AccessThis article is distributed under the terms of the Creative Commons Attribution 4.0 International License (http://creativecommons.org/licenses/by/4.0/), which permits unrestricted use, distribution, and reproduction in any medium, provided you give appropriate credit to the original author(s) and the source, provide a link to the Creative Commons license, and indicate if changes were made. The Creative Commons Public Domain Dedication waiver (http://creativecommons.org/publicdomain/zero/1.0/) applies to the data made available in this article, unless otherwise stated.
Authors' Affiliations
(1)
Department of Genetics, Geisel School of Medicine at Dartmouth, Hanover, USA
(2)
Dartmouth-Hitchcock Norris Cotton Cancer Center, Lebanon, USA
(3)
Institute for Quantitative Biomedical Sciences, Dartmouth College, Hanover, USA
(4)
Center for Neuroimaging, Department of Radiology and Imaging Sciences, Indiana University School of Medicine, Indianapolis, USA
(5)
Center for Computational Biology and Bioinformatics, Indiana University School of Medicine, Indianapolis, USA
(6)
School of Informatics and Computing, Indiana University Indianapolis, Indianapolis, USA
(7)
Indiana Alzheimer Disease Center, Indiana University School of Medicine, Indianapolis, USA
(8)
Simons Center for Data Analysis, Simons Foundation, New York, USA
(9)
Department of Systems Pharmacology and Translational Therapeutics, Perelman School of Medicine, University of Pennsylvania, Philadelphia, USA