Methodology

Open Access

Open Peer Review
This article has Open Peer Review reports available.
Grid-based stochastic search for hierarchical gene-gene interactions in population-based genetic studies of common human diseases
Received: 15 December 2016
Accepted: 18 May 2017
Published: 30 May 2017
Abstract
Background
Large-scale genetic studies of common human diseases have focused almost exclusively on the independent main effects of single-nucleotide polymorphisms (SNPs) on disease susceptibility. These studies have had some success, but much of the genetic architecture of common disease remains unexplained. Attention is now turning to detecting SNPs that impact disease susceptibility in the context of other genetic factors and environmental exposures. These context-dependent genetic effects can manifest themselves as non-additive interactions, which are more challenging to model using parametric statistical approaches. The dimensionality that results from a multitude of genotype combinations, which results from considering many SNPs simultaneously, renders these approaches underpowered. We previously developed the multifactor dimensionality reduction (MDR) approach as a nonparametric and genetic model-free machine learning alternative. Approaches such as MDR can improve the power to detect gene-gene interactions but are limited in their ability to exhaustively consider SNP combinations in genome-wide association studies (GWAS), due to the combinatorial explosion of the search space. We introduce here a stochastic search algorithm called Crush for the application of MDR to modeling high-order gene-gene interactions in genome-wide data. The Crush-MDR approach uses expert knowledge to guide probabilistic searches within a framework that capitalizes on the use of biological knowledge to filter gene sets prior to analysis. Here we evaluated the ability of Crush-MDR to detect hierarchical sets of interacting SNPs using a biology-based simulation strategy that assumes non-additive interactions within genes and additivity in genetic effects between sets of genes within a biochemical pathway.
Results
We show that Crush-MDR is able to identify genetic effects at the gene or pathway level significantly better than a baseline random search with the same number of model evaluations. We then applied the same methodology to a GWAS for Alzheimer's disease and showed base level validation that Crush-MDR was able to identify a set of interacting genes with biological ties to Alzheimer's disease.
Conclusions
We discuss the role of stochastic search and cloud computing for detecting complex genetic effects in genome-wide data.
Keywords
BioinformaticsEpistasisGenome-wide Association studyMachine learningCommon diseases
Introduction
Genomics has provided a better understanding of how DNA sequence variations influence disease susceptibility through biomolecular interactions, including protein-DNA, protein-RNA, RNA-RNA, and protein-protein binding within the context of a gene regulatory region. For example, Cowper-Sal. Lari et al. showed that single-nucleotide polymorphisms (SNPs) associated with breast cancer in genome-wide association studies (GWAS) are enriched in FOXA1 transcription factor binding sites resulting in allele-specific gene expression in cancer cells [1]. These same kinds of biomolecular interactions drive biochemical pathways and physiological systems, propagating genetic effects to the disease phenotype level. Given the complexity of biomolecular interactions that connect DNA sequences to anatomical and physiological perturbations, ultimately driving phenotypes from the healthy to diseased range, it is logical to assume that some genetic risk factors will manifest themselves as non-additive gene-gene interactions at the population level [2]. Revealing the complexity of the genetic architecture of common human diseases such as Alzheimer's disease or essential hypertension will require a combination of computational, mathematical, and statistical methods that embrace, rather than ignore, the hierarchical and interactive nature of the genetic signals that are propagated to a healthy or disease phenotype [3, 4].
Bateson, who recognized that one gene could modify the effects of another gene thereby skewing Mendelian expectations, was the first to describe this concept of gene-gene interaction, or epistasis [5]. This was a biological concept of gene action in cells [6]. In contrast, Fisher described epistasis as deviation from additivity in a linear statistical model such as analysis of variance [7]. This population-level concept is based on a statistical summary of many individuals. The relationship between biological and statistical epistasis is an unsolved problem in human genetics, [8, 9] but it is critical if we are to use population-based measures of genetic association to guide the development of new treatments that target biological processes at the cellular level. We focus here on the detection of epistasis in human populations using computational methods designed to detect non-additive gene-gene interactions in high-dimensional data.
Parametric statistical methods, such as logistic regression, are commonly employed to detect genetic associations. These approaches have nice mathematical properties and produce parameter estimates that can be interpreted as measures of risk. However, there are several disadvantages, including the assumption imposed by a specific mathematical model (i.e. a linear regression function with a logit link) and reduced power to detect interactions. Machine learning provides a nonparametric and genetic model-free alternative by harnessing the power of adaptive algorithms, which are designed to detect complex patterns in high-dimensional data [10]. A key difference is that machine learning allows the data to determine the model rather than forcing the data to fit a preconceived notion of what a model should look like. Several recent reviews highlight the need for new methods [11] and discuss and compare different strategies for detecting statistical epistasis [3, 4, 12]. The methods reviewed by Cordell [3] include novel approaches such as combinatorial partitioning, [13, 14] multifactor dimensionality reduction (MDR), [15, 16] and logic regression [17, 18]. We focus here on the MDR method.
MDR was developed as a nonparametric (i.e. no parameters are estimated) and genetic model-free (i.e. no genetic model is assumed) data mining and machine learning strategy for identifying combinations of genetic and environmental factors that are predictive of a discrete clinical endpoint [15, 16, 19–22]. Unlike most other methods, MDR was designed to detect interactions in the absence of detectable marginal effects and thus complements statistical approaches such as logistic regression and machine learning methods such as random forests and neural networks.
At the heart of the MDR approach is a feature or attribute construction algorithm that creates a new variable or attribute by pooling genotypes from multiple SNPs [21]. The general process of defining a new attribute as a function of two or more other attributes is referred to as constructive induction, or attribute construction, and was first described by Michalski [23]. Constructive induction, using the MDR kernel, is accomplished as follows. Given a threshold T, a multilocus genotype combination is considered high-risk if the ratio of cases (subjects with disease) to controls (healthy subjects) exceeds T, otherwise it is considered low-risk. Genotype combinations considered to be high-risk are labeled G 1 while those considered low-risk are labeled G 0 . This process constructs a new one-dimensional attribute with values of G 0 and G 1 . It is this new single variable that is assessed, using any classification method. The MDR method is based on the idea that changing the representation space of the data will make it easier for methods such as logistic regression, classification trees, or a naive Bayes classifier to detect attribute dependencies. As such, MDR significantly complements other classification methods such as those reviewed by Hastie et al. [24]. This method has been evaluated in numerous simulation studies, [19, 25] and a user-friendly open-source MDR software package written in Java is freely available [22, 26].
The MDR method was first implemented as a combinatorial approach that performed an exhaustive search across all two-way, three-way, and higher-order combinations of genetic variants for a best model. As reviewed by Moore et al., [4] this is not practical in the context of GWAS due to the exponential explosion of the search space. High-performance computing can only enable exploration of all two-way and perhaps three-way combinations of genetic variants in a typical genome-wide scan [27, 28]. Moore et al. outline two different approaches to MDR analysis in genome-wide data [4]. The first is to use computational filter methods, such as ReliefF, to reduce the number of variants to those most likely to be involved in gene-gene interactions [29, 30]. Another approach is to use biological filters to limit the analysis to variants in genes within the same pathway or those that exhibit protein-protein interactions [31]. A third approach, which we explore here, is to use stochastic search algorithms that probabilistically pick genetic variants for consideration by MDR.
We introduce here a multiobjective evolutionary search engine for MDR implemented in the Parabon Crush™ statistical analysis application. Crush employs an opportunistic evolutionary strategy designed to maximally utilize an arbitrary collection of distributed compute nodes [32]. MDR's evaluation of candidate groups of SNPs serves as one of the critical objectives in the Crush-MDR application, the details of which are provided below. The methods introduced here will facilitate the search for gene-gene interactions on a genome-wide scale using cloud computing resources.
Methods
There are five major components to the Crush-MDR method. The first is the MDR machine learning component. The second is the Crush stochastic search framework. The third is the expert knowledge component. The fourth is the multiobjective optimization component. The final component is the Software as a Service (SaaS) framework, which combines all of these components for cloud-based analysis. We describe each of these in turn and then describe methods for evaluating Crush-MDR using simulated data.
Results
Evaluation of Crush-MDR using simulation
The results of the simulation study are summarized as a heatmap in Fig.
1a
. The dark blue shading indicates a detection success rate of 80% or greater for each particular heritability, minor allele frequency (MAF), total number of SNPs (100 and 1000), size of the embedded 'target' models (i.e. the number of SNPs they contain), sample size, and trait standard deviation combination. On average, analysis of each simulated dataset consumed 4.7 h of total computation on 12 concurrently executing nodes, each with eight of 16 cores (Intel Xeon E5 class processors). As expected, the success rate is reduced as the effect size (heritability) decreases and as the standard deviation of the trait increases. We also find that the sample size of 8000 has a better success rate than 2000 as expected. In general, the four-SNP target models are also harder to detect than simpler two-SNP target models. Also, detecting target four or eight-SNP models is easier when there are 100 SNPs compared to 1000 total SNPs. It is important to note the runtime for the 1000 SNP data sets averaged five hours.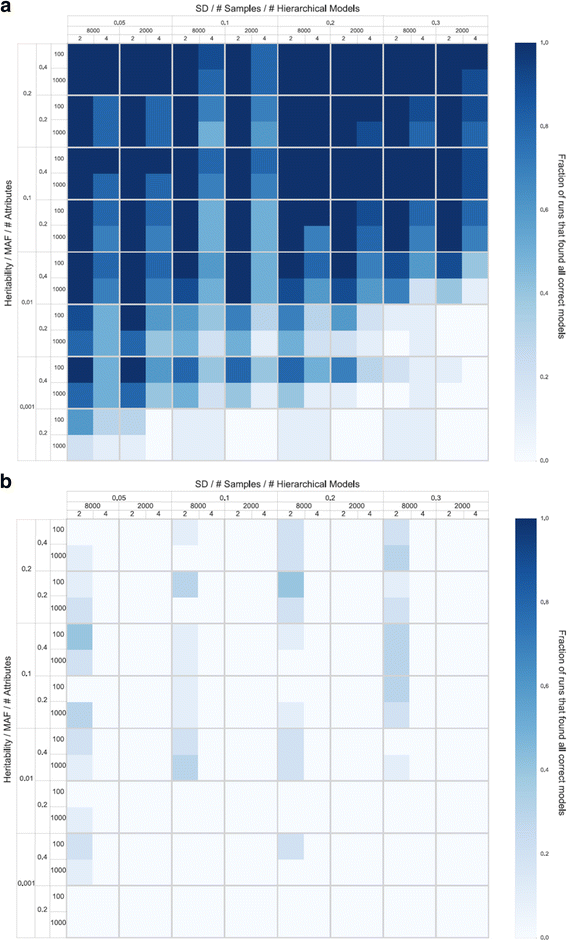 More specifically, we find that Crush-MDR succeeds in identifying the correct four simulated SNP targets out of 100 or 1000 SNPs, respectively, at least 80% of the time at the lowest heritability (0.001), with a sample size of 8000, MAF 0.4, and standard deviation of the quantitative trait 0.05. These values are consistent with real GWAS data. Further, an eight SNP target model can be reliably detected under the same parameter settings when the heritability is 0.01. In both cases, four or eight SNP target models were detected out of 1000 total SNPs, a number of SNPs that is consistent with the analysis of all genes in a biochemical pathway. For comparison, Fig. 1b shows the same analysis but with a random search instead of Crush over the same number of fitness evaluations. These results confirm that Crush-MDR is able to model complex, hierarchical relationships between multiple genetic risk factors in realistic population-level data.
Application of Crush-MDR to the genetic analysis of Alzheimer's disease
Out of an input set containing 758 SNPs in 28 genes, Crush-MDR analysis of normalized HV in the ADNI study identified 180 models on the Pareto front (Fig.
2
) containing 136 unique SNPs in 23 genes. The association between genotype and phenotype for each genotype combination in the two- and three-factor models with the highest MDR t-statistic scores are shown in Fig.
3
. In the three-factor model (Fig.
3a
), rs429358 is one of two main SNPs in the Apolipoprotein E (APOE) gene associated with late-onset Alzheimer's disease (LOAD), with the C allele being pathogenic. In this interaction, the main effect of this SNP can be seen, with the zero and one genotypes having generally smaller HV, which is associated with LOAD. However, there are some genotype combinations in this interaction that do not fit the simple main effect association. For example, subjects homozygous for the non-pathogenic allele (rs429358_T_2) show
smaller
than average HV when combined with rs7243201_C_2 and rs2074620_A_2. These kinds of non-additive interactions could help explain why some subjects without high-risk alleles are affected by LOAD. In the two-factor model (Fig.
3b
), rs1213266 has a weak individual effect (p = 0.00240), but this effect is clearly modulated by the genotype at rs60544817, which has no individual effect (p = 0.448). For example, the heterozygous genotype rs1213266_G_1 is protective (larger HV) when paired with rs60544817_C_1 but pathogenic (smaller HV) when paired with rs60544817_C_2.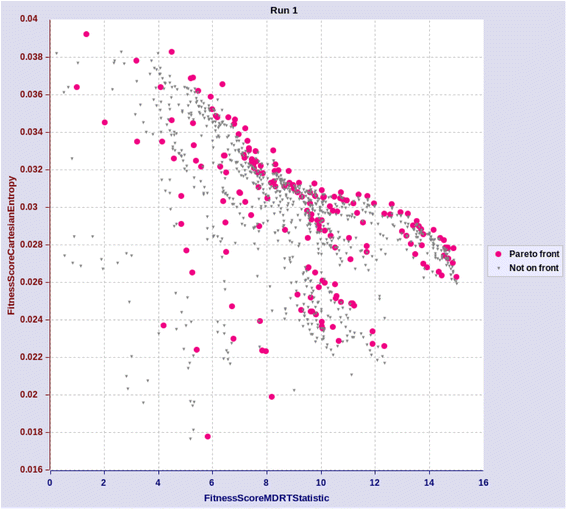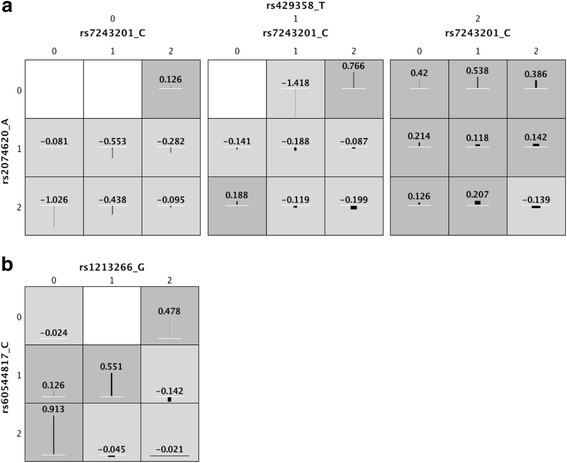 The set of genes on the Pareto front was analyzed using the Integrative Multi-Species Prediction (IMP) webserver, [
49
] which evaluates biological evidence for functional interactions between genes (Fig.
4a
). In IMP, the strength of the functional interaction between each pair of genes is estimated using a Bayesian algorithm that considers gene co-expression across thousands of gene expression datasets in addition to factors such as protein-protein interaction, association with the same disease, being part of the same pathway, or sharing transcription factor binding sites. This gene set was also analyzed using the related Genome-scale Integrated Analysis of gene Networks in Tissues (GIANT) webserver, [
50
] which looks for functional interactions within a particular human tissue, the neuron in this case (Fig.
4b
). Both approaches find strong evidence for biological interactions among the genes on the Pareto front, including high levels of co-expression, physical interactions, and shared transcription factor binding. Between the two analyses, all Pareto front genes have at least one biological interaction with another Pareto front gene at a confidence ≥ 0.2. These functional genomics analyses provide base level validation that Crush-MDR successfully identified a set of interacting genes with biological ties to Alzheimer's disease in genome-wide data.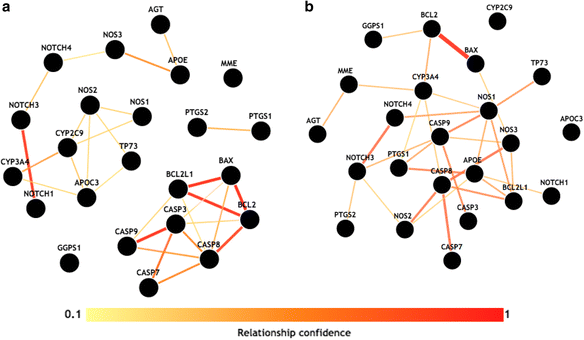 Discussion
We have entered the golden era of bioinformatics [51] marking a shift of focus from the technology used to generate big data to the computational methods and software for making sense of it. Univariate analyses of GWAS data have yielded numerous associations of small effect accounting for 20% or less of the heritability of most common diseases. It is our working hypothesis that much of the remaining heritability is due to context-dependent effects. That is, each genetic variant will impact disease susceptibility in the context of its genomic background and local ecology defined by a history of environmental exposure. Machine learning and artificial intelligence methods will play an important role in modeling these context-dependent effects, which will sometimes present as non-additive interactions between sets of genetic variants and/or environmental factors. We have explored here the use of the MDR algorithm for the detection of gene-gene interactions using a stochastic search framework implemented in a cloud-computing environment. Both simulation and real data analyses suggest that Crush-MDR is able to identify non-additive gene-gene interactions in genome-wide data.
There are several lessons learned from this study and our previous studies mentioned above. First, it is not computationally feasible to enumerate all three-way, four-way, and higher-order genetic models in genome-wide studies. The combinatorial explosion of the model space makes this impossible given global computing resources. Quantum computing holds some promise for these high-order models. In the meantime, we recommend applying statistical, computational, or biological filters to reduce the set of genetic variants to a computationally tractable number prior to machine learning analysis [4]. This could take the form of expert knowledge derived from databases such as Gene Ontology or literature sources such as PubMed. Even then, stochastic search is necessary to explore the model space. Second, we need to move away from evaluating models based on a single criterion such as a p-value from a statistical test. Many other objectives will be equally important. Here, we used entropy-based measures of interaction information as one of three objectives for evaluating model quality. This could easily be another important criterion such as the drugability of the genes in the model. Third, machine learning is by nature computationally intensive. We implemented Crush-MDR in a cloud-computing environment, as cloud services are increasingly available and inexpensive compared to local parallel computing clusters. We expect these technologies to play an important role in the detection and characterization of gene-gene interactions using methods such as Crush-MDR.
The most important and most challenging aspect of this kind of analysis is the pre-processing of the data to reduce the search space of Crush-MDR. Here we used biological knowledge to select a subset genes and their SNPs representing an Alzheimer's disease pathway prior to analysis. Other filtering methods such as ReliefF algorithm could be used to select a smaller subset of SNPs that are more likely to interact. ReliefF and its extensions have been shown to be effective at filtering SNPs with interaction effects [30]. We used pairwise entropy-based measures of interaction information as expert knowledge in Crush-MDR. These are relatively fast computational methods that can be used to prioritize SNPs for gene-gene interaction analysis using machine learning methods. These pairwise interaction information measures could also be used as a filter with an appropriate threshold. An overview of filter approaches is provided by Ritchie [52].
Conclusions
The future success of this kind of analysis will depend primarily on the expert knowledge that is used to filter big data to a manageable size and the availability of inexpensive high-performance computing. It is our position that the time is now to tackle the search for combinations of genetic variants that interact to influence disease risk. Functional genomics data made available through tools such as IMP [49] and increasing availability of inexpensive cloud computing due to competition between vendors will enable methods such as Crush-MDR to be used for large-scale genetic analyses.
Declarations
Acknowledgements
The authors acknowledge are grateful to the subjects that participated in the ADNI study.
Funding
This work was supported by grant R42-GM097765 by the National Institutes of Health (NIH). Additional funding for the initial development and evaluation of the MDR method was provided by NIH grants LM009012, AI59694, LM011360, LM010098, ES013508, AI116794, and DK112217.
Authors' contributions
SLA and JHM conceived the methodology and its evaluation, obtained funding for the work, managed the project, reviewed research results, and wrote the paper. PCA, RSO, CL, and SC carried out the computer programming, evaluated the software, performed the experimental analysis, reviewed results, and assisted with the writing of the paper. All authors read and approved the final manuscript.
Competing interests
The authors declare that they have no competing interests.
Consent for publication
Not applicable.
Ethics approval and consent to participate
Not applicable.
Publisher's Note
Springer Nature remains neutral with regard to jurisdictional claims in published maps and institutional affiliations.
Open AccessThis article is distributed under the terms of the Creative Commons Attribution 4.0 International License (http://creativecommons.org/licenses/by/4.0/), which permits unrestricted use, distribution, and reproduction in any medium, provided you give appropriate credit to the original author(s) and the source, provide a link to the Creative Commons license, and indicate if changes were made. The Creative Commons Public Domain Dedication waiver (http://creativecommons.org/publicdomain/zero/1.0/) applies to the data made available in this article, unless otherwise stated.
Authors' Affiliations
(1)
Department of Biostatistics and Epidemiology, Institute for Biomedical Informatics, Perelman School of Medicine, University of Pennsylvania, Philadelphia, USA
(2)
Parabon Computation, Inc, Reston, USA
(3)
Parabon NanoLabs, Inc, Reston, USA