Research
Open Access
Open Peer Review
This article has Open Peer Review reports available.
A multilevel layout algorithm for visualizing physical and genetic interaction networks, with emphasis on their modular organization
Received: 31 July 2011
Accepted: 26 March 2012
Published: 26 March 2012
Abstract
Background
Graph drawing is an integral part of many systems biology studies, enabling visual exploration and mining of large-scale biological networks. While a number of layout algorithms are available in popular network analysis platforms, such as Cytoscape, it remains poorly understood how well their solutions reflect the underlying biological processes that give rise to the network connectivity structure. Moreover, visualizations obtained using conventional layout algorithms, such as those based on the force-directed drawing approach, may become uninformative when applied to larger networks with dense or clustered connectivity structure.
Methods
We implemented a modified layout plug-in, named Multilevel Layout, which applies the conventional layout algorithms within a multilevel optimization framework to better capture the hierarchical modularity of many biological networks. Using a wide variety of real life biological networks, we carried out a systematic evaluation of the method in comparison with other layout algorithms in Cytoscape.
Results
The multilevel approach provided both biologically relevant and visually pleasant layout solutions in most network types, hence complementing the layout options available in Cytoscape. In particular, it could improve drawing of large-scale networks of yeast genetic interactions and human physical interactions. In more general terms, the biological evaluation framework developed here enables one to assess the layout solutions from any existing or future graph drawing algorithm as well as to optimize their performance for a given network type or structure.
Conclusions
By making use of the multilevel modular organization when visualizing biological networks, together with the biological evaluation of the layout solutions, one can generate convenient visualizations for many network biology applications.
Keywords
Semantic SimilarityLayout AlgorithmLayout OptionMultilevel FrameworkCluster Option
Background
Network graphs provide a valuable conceptual framework for representing and mining high-throughput experimental datasets, as well as for extracting and interpreting their biological information by the means of graph-based analysis approaches [1–8]. In cellular systems, network nodes typically refer to biomolecules, such as genes or proteins, and the edge connections the type of relationships the network is encoding, including physical or functional information. Network visualization aims to organize the complex network structures in a way that provides the user with readily apparent insights into the most interesting biological patterns and relationships within the data, such as components of biological pathways, processes or complexes, which can be further investigated by follow-up computational and/or experimental analyses [4–6, 9, 10]. Owing to the developments in biotechnologies, experimental datasets are steadily increasing in their size and complexity, posing many challenges to the network-centric data visualization and biological exploration.
There exists a wide variety of advanced network layout algorithms that seek to place connected nodes of a graph close to each other. Conventionally, these layout algorithms are specifically designed for a particular network type, such as gene regulatory networks or signalling pathways [11, 12], metabolic pathways or biochemical networks [13–15], or phylogenetic networks [16]. Algorithmic solutions have also been introduced for specific network topologies, such as drawing fragmented networks [17], grid layouts [18], or detailed visualization of small networks [19]. However, there exists no universal layout solution, and therefore a practical strategy involves trying out multiple layout algorithms a number of times to see which one best arranges a given network [6, 20]. Such a test-and-trial strategy often neglects the biological relevance of the layout solutions, as well as requires bioinformatics skills or resources to allow experimenting with several algorithms, many of which are not implemented as user-friendly software packages.
To provide researchers with an easy access to network visualization tools, several network analysis software come with sophisticated methods for laying out networks. Such software packages, each providing a specific range of visualization options, include, e.g., VisANT, NAViGaTOR, PATIKA, PINA, MATISSE, GraphViz, Osprey, Graphle, CellDesigner, Biolayout, ProViz and Pajek; see [4, 5, 10] and references therein. Among others, Cytoscape software platform for network analysis and visualization has been widely adopted by the biological community because of its ease of use, compatibility with and direct access to many network formats and databases, respectively, as well as straightforward extensibility through open-source plug-in development [4, 5, 20, 21]. In its core, a number of advanced layout algorithms are available, including those based on spring-embedded and force -directed graph drawing approaches [22, 23]. Many of these algorithms work reasonably well, especially for small- and medium-sized networks (e.g., 50-1000 nodes), whereas larger networks, in particular those with a dense or clustered connectivity structure, are more difficult to visualize, often resulting in 'hairball' network layouts [4–6].
Many biological networks have shown to represent with a modular organization [24], which often manifests in a hierarchical cluster structure of highly interconnected network modules across a spectrum of resolution levels [1–3]. Such modular architecture has been revealed using both physical mapping of protein interaction networks [1], as well as by quantitative mapping of genetic interactions networks [25]. These two network types encode fundamental and partly complementary information about physical and functional relationships among biomolecules. Protein-protein interaction networks characterize physical relationships between proteins that are in direct binding contact or co-existence in a complex. Changes in the observed modularity of the human protein interaction networks has been used, for instance, to predict biological and clinical outcomes, such as brain cancer progression or breast cancer metastasis [26, 27]. Genetic interaction networks mapped by combinations of pairwise gene mutations in model organisms, such as budding yeast, have revealed highly hierarchical maps of inter-connected network modules, such as components of compensatory pathways or protein complexes, and their functional cross-connections that regulate cellular processes and maintain mutational robustness [28, 29].
We hypothesized that such a multilevel organization of the network connectivity structure could be utilized to provide both visually attractive and biologically relevant network layouts. Therefore, we implemented a Cytoscape plug-in, named Multilevel Layout, which combines traditional node placement algorithms with a multilevel optimization framework introduced by Walshaw [30]. The multilevel framework first constructs a hierarchy of increasingly coarser graphs and then applies the force-directed placement at each level of resolution to generate globally clear and aesthetic layout solutions. Our implemented version of the generic multilevel framework is modified for network biology applications, e.g., by including options for grouping the nodes based on their degree of connectivity or using clustering coefficient to further emphasize the hierarchical modularity of the networks. We have previously demonstrated that the longer running time of the multilevel approach, compared to the traditional layout options, is compensated by its capacity to provide visually pleasant layouts also for larger networks [31].
In the present work, we investigated whether the multilevel layout approach could provide also biologically meaningful network visualizations, in addition to being visually attractive. To this end, we compared the multilevel layout solutions to those generated by popular layout algorithms in the Cytoscpape platform, in terms of their capacity at capturing the semantic similarity information about underlying biological processes. Based on such systematic comparative evaluations on various large-scale networks, originating both from physical and genetic interaction mappings, one could provide the users with a practical guidance on how to choose a preferable layout algorithm for different network types and their characteristic properties. To facilitate drawing of networks with several thousands of nodes, we improved the computational complexity of the multilevel approach through the use of efficient M-tree database structures. To promote their widespread usage in network biology applications, we have made available efficient implementations of both the Multilevel Layout algorithm and Biological Evaluation as plug-ins for Cytoscape software.
Results
The performance of the Multilevel Layout algorithm, with and without the clustering option (referred to as MLL and MLL-C), was compared against three built-in layout algorithms in Cytoscape. Force-directed layout (FDL) is a variant of the widely used node placement algorithm by Fruchterman and Reingold [23], thus representing a baseline reference for the MLL. The Cytoscape implementation takes an advantage of the efficient force-calculation algorithm by Barnes and Hut [56]. Cytoscape's Spring-embedded layout (SEL) implements a variant of the layout algorithm introduced by Kamada and Kawai [22]. The algorithm is based on the idea of minimizing the total energy of the network by calculating partial differential equations of the energy function and moving the nodes accordingly. The FDL and SEL algorithms represent popular open-source solutions, capable of producing visually pleasant layout solutions, especially for relatively small and simple network structures [6, 10]. The yFiles Organic layout (ORL) is a proprietary closed-source implementation of the force-directed placement paradigm, which combines elements from several layout algorithms to facilitate identification of clusters of tightly connected network modules [20], hence sharing the same objective with the MLL-C.
Discussion
We have implemented a multilevel network layout algorithm and shown that it can generate visually pleasant and biologically meaningful layouts for a wide spectrum of biological network structures. In general, the Multilevel Layout (MLL) plug-in provided layout solutions and network views that are complementary to those of the built-in layout options of Cytoscape; it demonstrated an added value especially in large-scale networks representing either pairwise functional or physical interactions between genes or proteins.
A particular network type in which the multilevel algorithm showed an improved performance involved the complex networks of genetic interactions. In contrast to the physical PPI networks, emphasizing densely interconnected network clusters in the functional genetic interaction layouts did not seem to increase the information on the biological processes, as was demonstrated by the reduced semantic similarity of ORL, and also of MLL-C to some extent, compared to the MLL without the clustering option. This indicates that genetic interaction modules encode also a wide range of functional cross-talk across multiple biological pathways. Such quantitative genetic networks are increasingly being mapped in model organisms to study many fundamental questions, such as genotype-phenotype relationships and buffering of genetic variation [25, 28, 58]. Genetic interactions are also involved in many human disease phenotypes, such as cancers and cardiovascular diseases. As an example, a statistical epistasis network was recently constructed based on SNP-data to study the global architecture of gene-gene interactions, as well to identify higher-level relationships and inter-connected modules involved in bladder cancer [59]. Application of the multilevel layout algorithm to such emerging networks should prove useful for many network biology and network medicine applications.
In addition to the multilevel layout, we have also introduced here a novel way of evaluating layout solutions in terms of their biological relevance. The implementation of the Biological Evaluation plug-in enables one to evaluate layout solutions from any existing or future graph drawing algorithm and to optimize its performance for a given network under the analysis. In the present work, the comparative evaluations were carried out on yeast interaction networks, since the GO annotations in
S. Ceravisiae
are relative accurate and established, compared to many other organisms. Beyond the systematic evaluations presented here, we have been extensively testing and applying the MLL plug-in also in other organisms. For instance, when applied to the literature-curated Human Protein Reference Database (HPRD) network [
60
], the multilevel organization was able to visualize both the global and local network structures, such as the large number of peripheral protein nodes and highly interconnected sub-network modules, which were largely missed by the other layout algorithms in Cytoscape (Figure
5
; Additional File
8
).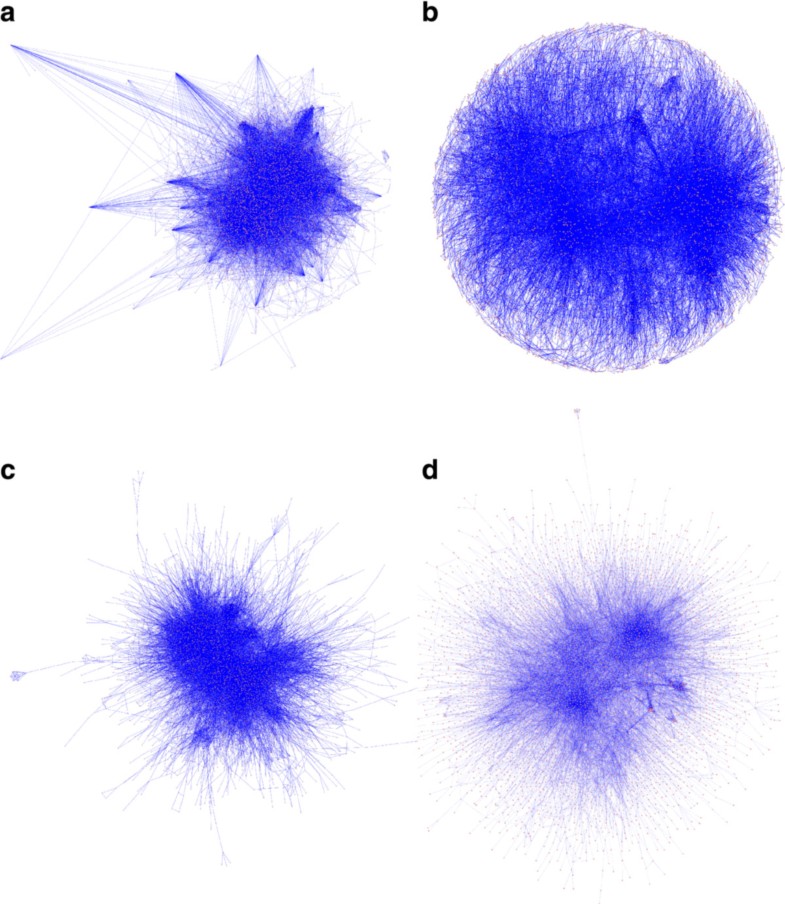 After generating the layout, the resulting networks can be investigated in more detail, for example, by zooming into densely-connected clusters. There is a wide range of clustering algorithms introduced for finding such sub-network modules [61], some of which are also available in network analysis software, including MCODE [62] or Graphle [63]. As an example, we searched here for the top-scoring clusters in the Schwikowski network using the MLL-C layout and ClusterViz Cytoscape plug-ins (Additional File 9). To facilitate revealing the full spectrum of hierarchical modularity of a network, one could also incorporate a cluster detection phase explicitly within the multilevel framework, hence providing a multi-resolution viewing of the modules as communities or metanodes, similarly as was done in the GenePro [64] or GLay [65]. Combining all of the nodes in the detected clusters could also further improve the multilevel layout solutions, especially in networks such as the AP/MS-Combined, which show exceptionally high and extensive clustering structure. The good performance of the organic layout in this network indicates that there is still potential for further improvement.
Instead of first detecting sub-network clusters or modules based on the network connectivity and then contrasting these against known complexes or pathways, an alternative approach is to use such external biological information directly to optimize the placement of the nodes or multinodes [12, 66–71]. Here, we chose not to use any additional information in guiding the layout process, since this could bias the biological evaluation of the layout algorithms, and because reliable external data may not be always available, for instance, when studying human interaction networks. However, one could extend the multilevel layout framework to incorporate also additional information, such as user-defined GO annotations or other node attributes, in the node matching phase, in order to better emphasize biologically meaningful aspects of the network topology. The multilevel framework can also be combined with other algorithms than the force-directed layout in order to improve or modify the final layout result. The yFiles organic layout would be an interesting option to include; however, its proprietary implementation is not publicly available.
A limitation of the current implementation of the multilevel layout algorithm is its relatively lengthy running times in the largest network graphs. For instance, generating the layout took almost 7 minutes for the largest yeast genetic interaction network (4319 nodes with 74,984 edges) and 8 minutes for the human HPRD-PPI network (5699 nodes with 19,779 edges). While the M-tree architecture resulted in somewhat reduced computation times, further speed-ups could be achieved by linking specific C functions to the Java implementation [65], or by using hardware-based graphics acceleration in Cytoscape [72]. For instance, performance benefits could be obtained through full usage of the power of graphics processing units. Additional decrease in the layout calculation times will likely be obtained by making better use of multiple cores in the future versions of Cytoscape. For example, the Intel i7 processor could handle eight simultaneous processing threads, making it suitable for parallelized layout calculation once the Cytoscape platform is capable of supporting multi-threading and effective parallelization.
Abbreviations
AP/MS:

Affinity-purification/mass spectrometry
CC:

Clustering coefficient
CCA:

Co-complex association
FDL:

Force-directed layout
GO:

Gene ontology
E-MAP:

Epistatic miniarray profiling
HPRD:

Human protein reference database
MLL:

Multilevel layout
ORL:

Organic layout
PPI:

Protein-protein interaction
SEL:

Spring-embedded layout
SGA:

Synthetic genetic array
Y2H:

Yeast two-hybrid.
Declarations
Acknowledgements
The work was supported by the Academy of Finland (grants 120569, 133227, 140880 and 218310 to TA). The funders had no role in study design, data collection and analysis, decision to publish or preparation of the manuscript.
Authors' Affiliations
(1)
Department of Information Technology, University of Turku, Turku, Finland
(2)
Department of Mathematics, University of Turku, Turku, Finland
(3)
Institute for Molecular Medicine Finland (FIMM), University of Helsinki, Helsinki, Finland
Copyright
© Tuikkala et al; licensee BioMed Central Ltd. 2012
This article is published under license to BioMed Central Ltd. This is an Open Access article distributed under the terms of the Creative Commons Attribution License (http://creativecommons.org/licenses/by/2.0), which permits unrestricted use, distribution, and reproduction in any medium, provided the original work is properly cited.