Review
Open Access
Open Peer Review
This article has Open Peer Review reports available.
A reference guide for tree analysis and visualization
Received: 12 May 2009
Accepted: 22 February 2010
Published: 22 February 2010
Abstract
The quantities of data obtained by the new high-throughput technologies, such as microarrays or ChIP-Chip arrays, and the large-scale OMICS-approaches, such as genomics, proteomics and transcriptomics, are becoming vast. Sequencing technologies become cheaper and easier to use and, thus, large-scale evolutionary studies towards the origins of life for all species and their evolution becomes more and more challenging. Databases holding information about how data are related and how they are hierarchically organized expand rapidly. Clustering analysis is becoming more and more difficult to be applied on very large amounts of data since the results of these algorithms cannot be efficiently visualized. Most of the available visualization tools that are able to represent such hierarchies, project data in 2D and are lacking often the necessary user friendliness and interactivity. For example, the current phylogenetic tree visualization tools are not able to display easy to understand large scale trees with more than a few thousand nodes. In this study, we review tools that are currently available for the visualization of biological trees and analysis, mainly developed during the last decade. We describe the uniform and standard computer readable formats to represent tree hierarchies and we comment on the functionality and the limitations of these tools. We also discuss on how these tools can be developed further and should become integrated with various data sources. Here we focus on freely available software that offers to the users various tree-representation methodologies for biological data analysis.
Keywords
Graphical Processing UnitFile FormatVisualization ToolTree RepresentationUnify Medical Language System
Introduction
Tree data structures and representations are essential in biological studies. They are able to show hierarchical organizations of biological data and concepts; for example, some of the most well known efforts for hierarchical representations are the Gene Ontology (GO) [1] that describes the functional annotation of genes via a hierarchically organized set of terms and phrases and the Unified Medical Language System (UMLS) [2] that has a biomedical focus as discussed later. A prime example of tree representations is the so-called tree of life [3] which displays evolutionary relationships between species and how they separated and evolved over time. Tree representations are also valuable for classification and clustering visualization of biological data.
Evolutionary studies were always a very important field of biological research. Currently, the modern sequencing techniques and their improvements make it easy to sequence and analyze more and more species. There are approximately 1.7 million identified species, which is just a fraction of the total number of species that exist. Only about 80,000 of these species have been analyzed for evolutionary relationships and have been assigned into a hierarchy [4]. The major challenge remains: the creation of the biggest possible phylogenetic tree of life that will classify all species showing their detailed evolutionary relationships. Ideally, all of the species recognized thus far should have a place in that phylogenetic tree. Therefore, proper visualization tools that will be able to display very wide and deep hierarchies are necessary.
Chip-Chip arrays, microarrays, and other proteomics or trascriptomics technologies improve every day and the data produced by them often require statistical and clustering analysis [5], the results of which are usually visualized by tree hierarchies. Nevertheless, methods that greatly simplify the analysis and interpretation of biological data are not enough. Well-designed visualization applications that are developed, eventually transform raw data into logically structured and visually tangible representations. Their main purpose is to reveal those patterns and structures that remain hidden in the raw data and are not obvious to perceive. Unfortunately, nowadays, the current visualization tools are unable to efficiently visualize vast amounts of data in tree hierarchies and the big challenge remains: to handle the overload of information and make it easier to understand and explore.
In this review, we summarize and evaluate tree visualization tools that have been developed to analyze and visualize biological relationships. There is a wide variety of tree visualization tools available, which makes an exhaustive search of all of them impossible. Therefore, we focus on the most recent visualization tools produced in recent years and on those widely used. Initially, a formal definition of trees as graphs is given together with the most common tree types, representations and layout algorithms. Next, we present the widely used standard and uniform file formats that are able to describe tree hierarchies in computer-readable raw text format. We continue with a brief description of major biology research fields for which tree representations are important and explain the reason for that. A survey on some of the best known visualization tools follows. Taking into account that each tool comes with different properties, functionalities, advantages and disadvantages, we try to evaluate and comment on their strengths and weaknesses, as our purpose is not to compare but to aid researchers in choosing the most suitable visualization tool for their studies. Finally, we present software, tools and packages or libraries that can serve to perform analysis and manipulation of data, which can be presented with tree structures. In conclusion, we discuss future directions and how next generation tree viewers can be more efficient to handle the upcoming vast amounts of biological data.
Tree definitions
In this paragraph, formal descriptions are provided, related to the tree data structures of interest. Simple definitions and terminologies are presented with the purpose to introduce the tree structure concept; an exhaustive description is not in scope.
Terminology
A tree is a connected graph G = (V, E) that does not contain cycles, where V and E represent the vertices and the edges of G, respectively. This means that any two nodes of a tree are connected via a single path and that there is no link that can be traversed more than once. For every tree applies that |E| = |V|-1, where |E| is the number of connections and |V| is the number of nodes. In a tree, each node may have one or more children but only one ancestor. In the case of a binary tree each node has maximally two children. The nodes may correspond to events of divergence, which is most commonly the case in phylogenetic and clustering analyses. Root of a tree is the highest ancestor of the hierarchy whereas leaves are the nodes that have no children. As internal or inner is defined a node that is not a leaf and has children. A subtree is a fraction of the graph G, the hierarchy of which can stand as a complete tree by itself. Every node of a tree can be a root node to form a subtree. The height of a node is defined as the length, i.e. the number of edges, from the node to the longest downward, i.e. away from the root, path to a leaf. The height of the tree is defined by the height of the root. Correspondingly, the depth of a node is the length of the path to its root. There are trees, however, for which there is no natural orientation and usually there is no node defined as root; these trees are called unrooted trees. Consequently, trees can be classified as rooted or unrooted depending on the presence of a root node at the top of the hierarchy, or not, respectively. While unrooted trees can always be generated from rooted ones, the opposite does not apply; a rooted tree cannot always be reconstructed from an unrooted one.
A special category of trees, due to the biological interest in displaying and studying evolutionary relationships among species, are the so called phylogenetic trees. A phylogenetic tree (T, t) is parameterized by a topology T, i.e. simply the set of edges, and a mathematical vector t that represents the edge lengths. A rooted phylogenetic tree is a directed tree with a unique node that is in the highest part of the hierarchy and is recognized as the root node of the tree. Unrooted phylogenetic trees illustrate the relatedness of the leaf nodes without making assumptions about common ancestry.
Tree representations and layouts
Currently there is a wide variety of tree visualization tools that represent data mostly in 2D dimensions. The vast amount of data makes it necessary that many of these visualizations incorporate efficient layout algorithms that can make navigation easier and the representation of a tree more informative. Figure
1
illustrates different ways for representing relationships between sequences of different organisms.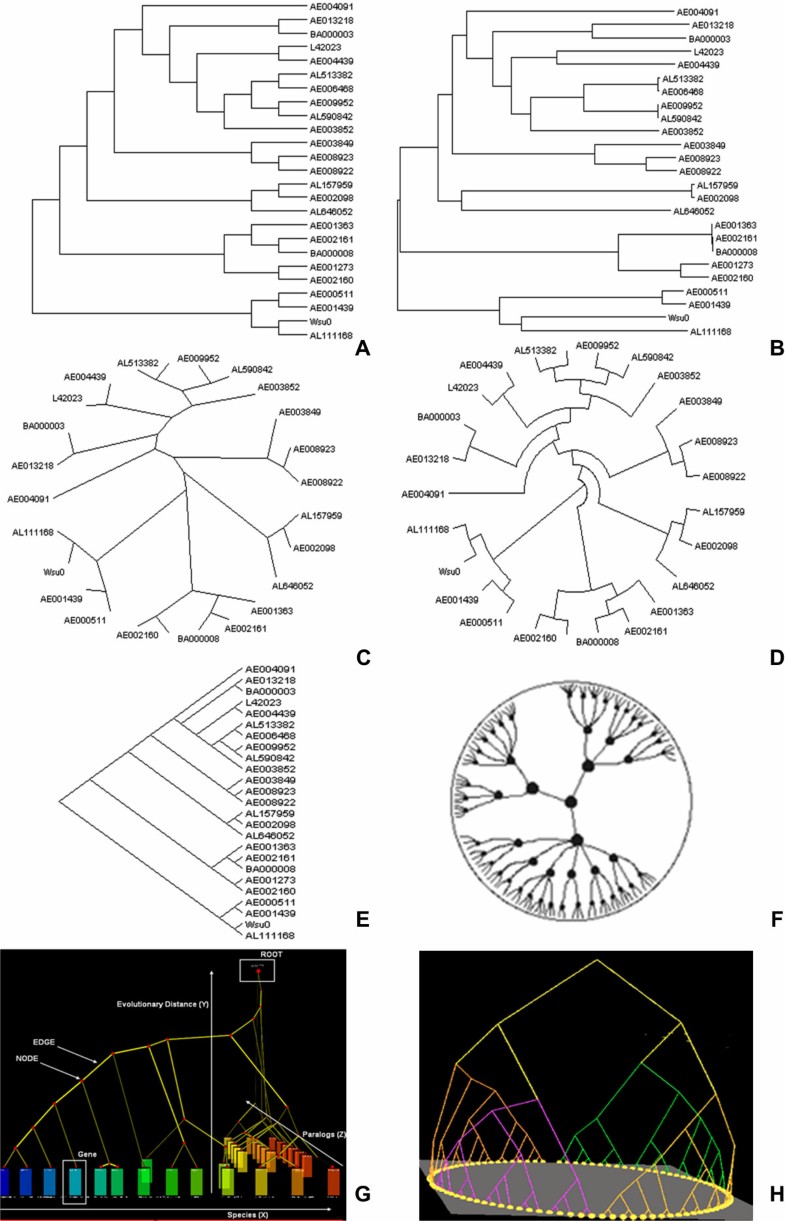 Each tree can be represented as cladogram or phylogram. In the first case, a cladogram represents a branching diagram assumed to be an estimate of a phylogeny whereas a phylogram is usually distinguished from a cladogram in that the branch lengths are proportional to the amount of the inferred evolutionary change. Furthermore, each of these types of trees can furthermore be rooted or unrooted. A cladogram or phylogram with a common hypothetical ancestor that equates to the root, which is the node at the base of the tree, is called rooted. A cladogram or phylogram the root of which has not been hypothesized, and for which thus the directions of evolutionary changes among the character-states are not specified, is called unrooted tree. Some of the best known layout algorithms to visualize trees in space and make the graph more informative are the rectangular phylogram and rectangular cladogram where nodes are aligned in x or y axis the one on top of the other and then the tree is drawn in such a way that it reveals information about the hierarchy. It is not efficient though since it handles the tree as raw data which makes navigation more difficult in cases where the tree consists of thousands of leaves.
Circular phylograms and circular cladograms give more intuitive layouts since they use space more efficiently to visualize larger amounts of data. These circular or ring layouts start with the root in the center. The children of the root are placed in one of the concentric rings around the center. The space allocated to each child is proportional to the number of its children. The children that allocate the most space are placed in the outer-most ring.
Radial representations use a visual circle to project unrooted trees. This layout is similar to the circular layout but one major difference is that branches can be expanded and nodes can be placed in such a way that clusters or neighbors can be easier visualized. The radial tree starts with the root in the center. The children of the root are placed in the inner-most ring. The angle occupied by a child is proportional to the space required by the node.
An ever more efficient layout to visualize data is to use a hyperbolic space so the nodes can be enlarged or minimized according to their coordinates. A user can in this way navigate and place the nodes in such a position that the neighborhood of interest is highlighted and enlarged.
In case of larger data sets 3D space and treemaps are also used. Treemaps display hierarchical trees as a set of nested rectangles or circles [6]. Each branch of the tree is represented by a rectangle or a circle and is then tiled with smaller rectangles or circles representing sub-branches. Branches and sub-branches often follow different color schemes and the area that each leaf rectangle covers is proportional to its dimension. Treemaps can be easily extended for 3D visualization. They are very suitable for pattern recognition by humans and they use space very efficiently so that thousands of data can be visualized simultaneously. The best known algorithms for tiling rectangles efficiently are BinaryTree, Ordered, Squarified and Strip. Treemaps were initially developed by Shneiderman and Johnson [7, 8].
Over the last few years, Graphical Processing Unit (GPU) power has increased, therefore 3D graphic programming has become more feasible in terms of memory allocation, calculations and processing speed. 3D space can definitely host larger amount of data but in the case of tree visualization, it is not always well accepted by the community. In later sections, such tools that are able to visualize trees or hierarchies in 3D space are indicated as well.
Standard tree file formats
In this section we present the available text computer readable file formats that are used to save and load trees. As discussed below, a large variety of tree-viewers exist, which come with distinct and complementary strengths and functionalities. In practice, the only way to integrate features of different tools, including handling of rooted as well as unrooted trees, drawing clusters using different thresholds, changing branch order, expanding and collapsing of trees in various nodes and re-rooting, is based on transforming the tree description across some common file formats. Compared to the format diversity associated with network visualization, the file format landscape around tree viewers is fairly uniform. While a variety of computer readable formats exist, most phylogenetic trees are described using either the New Hampshire/Newick [9], the NHX extended Newick file format or the Nexus [10] file format. In addition, available converters that are able to transform information from the one file format to the other are mentioned in this section, as well as some parsers that are developed to read and save these file formats.
New Hampshire format
The New Hampshire format, also referred to as Newick, relies on strings of text in order to encode tree representations (see figure
2
). However, this format does not impose a uniquely defined representation for a given single tree topology, as the same biological information can be saved and loaded in the shape of various text strings and tree representations. Thus, each tree can be represented by more than one Newick formats. One of the reasons for that is that the left-right order for the positioning of the descendants of a node affects the representation, even though it is biologically not interesting. In addition, users may want an unrooted tree representation, in which case the simple convention is to arbitrarily root the tree. The Newick format description relies on the use of commas and parentheses to define the pairs of nodes to be displayed as connected: a pair of comma separated nodes is enclosed within matched parentheses to indicate that these nodes have a common ancestor. The length of a branch can be incorporated next to a node name followed by a colon.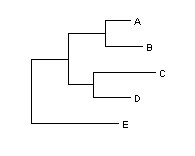 The NHX format
In spite of the fact that it follows the same encoding principles as the original Newick format, the New Hampshire eXtended - NHX - format is richer and can incorporate additional information about tree nodes and branches. The most important extension of NHX, as compared to Newick, is the introduction of tags and meta-data support in order to associate various data fields with a node of a phylogenetic tree. NHX format is universal and it is suitable for describing annotated phylogenies. In comparison with the simpler New Hampshire format, in NHX the order of tags can be flexible, the length of string based data is unlimited (such as species and descriptions), both internal and external (root and leaf) nodes can be tagged, a bigger variety of tags is offered for different data fields and there can be an arbitrary number of children per node.
The Nexus format
The Nexus file format is very similar to the Newick format and it was designed to support meta-data for each incorporated data type. Examples would be the support of alignment sections allowing users to import sequence alignments, the support of translate sections allowing the incorporation of additional information about each individual leaf, or the support of tree sections giving the possibility to provide the hierarchical structure of the tree in text. It was initially introduced by PAUP -- Phylogenetic Analysis Using Parsimony [11] which is a widely used software package for the inference of evolutionary trees and MrBayes [12] which is a program for the Bayesian estimation of phylogenies.
Several tools including MrBayes [12], PAUP [11], PHYLIP [13], ITOL [14], PROTML, TREE-PUZZLE [15] recognize both the Newick and NHX format. It is the only tree file format readable by the PHYLIP programs drawgram, drawtree, and retree and can be imported and exported by almost every other program. The NEXUS [10] format incorporates the Newick [16] text string along with other commands required by other programs such as PAUP* [11]. Most tree viewing programs can handle NEXUS [10], one exception being the PHYLIP package [13]. There are many tools that convert NEXUS into NHX files, and vice versa (one can be found under http://www.ii.uib.no/~matthewb/tools/tree_convert_in.cgi). The easiest way to switch tree file formats is to use the already existing modules offered by the open source projects BioPerl [17] or BioJava [18]. Users will also have the capability to save trees in XML like formats like SVG or other forms like PDF, JPG or PNG. Treeplot is another good conversion tool to convert PHYLIP [13] format to Postscript (.ps), Adobe Illustrator .ai , Computer Graphic Metafile .cgm, Hewlet Packard Graphic Language .hpgl, xfig file .fig , image file .gif and PBM Portable aNy Map file .pnm .
Trees in Life Sciences
In this section, examples of different life science areas for which the tree representation is of importance are presented. We shortly describe the performed analysis type and show how the tree visualization can be the appropriate or standard way to display, describe and process the respective data.
A survey of tree visualization tools
The purpose of the preceding short overview has been to understand how and why the study and visualization of trees in the biological context is crucial. The next section gives an overview of the most widely used tree-viewers for the analysis and visualization of data, primarily developed for phylogenetic analysis purposes, and covers mostly recent visualization tools, i.e mainly developed in this decade. The purpose is not to compare, but rather to assist in selecting the appropriate tool for a study.
Discussion
The data production rate in modern molecular biology is scaling up dramatically. The increasing use of high-throughput technologies multiplies the amount of data generated and rapidly fills the databases. The need to sequence more species and create bigger and more precise trees of life, which will contain as many species as possible, in order to reveal biological information about the evolutionary origin of human and other organisms is becoming more and more challenging. Cost, efficiency and scale of biological experiments can only improve and produce larger amounts of results that make the visualization of data a major bottleneck in systems biology and other large-scale approaches. The amount of data and their heterogeneity pose a great challenge and therefore the development of efficient visualization tools that can construct representations of data on-the-fly has become a critical objective for bioinformatics.
In summary, this review studied recent or popular tree visualization tools that can be applied to a wide range of data. The advantages and the disadvantages of each of these tools, as depicted via the heterogeneity of the directions their functionality is focused upon, make them suitable under different circumstances for different applications. The presented characteristics of the mentioned tools are expected to rapidly change due to the continuous improvements both in software and hardware development and do not comprise an exhaustive description of the discussed software's features. In addition, the scope of the descriptions has not been directed towards a comparison and has been restricted in tree associated features, aspects, as well as manipulation and analysis capabilities, only.
Nevertheless, even through the limited notions and perspectives under consideration, an exhaustive overview becomes difficult. This work is focused on recent or popular phylogenetic visualization tools that can be applicable to a wider biological range of data. This part of the survey profiles the functionalities and the application areas of tree visualization tools. Instead of comparing, the survey aims to assist in the selection of the appropriate visualization tool.
The limitations of the tools regarding the manipulation of tree data in biology and their illustration, user-friendliness and interactivity are evident and most of these tools remain limited in terms of usability when thousands of nodes have to be analyzed and visualized. The results of today's large-scale experiments regularly exceed the size of hundred thousands of data points. This issue makes it necessary that more efficient visualization tools need to be developed which are capable of handling, visualizing, processing and analyzing these large datasets. Regarding the layout, more efficient algorithms should be incorporated in order to overcome the current limitations. One promising alternative, accommodated by the modern hardware and software advancements, could be the utilization of 3D space for the representation, as well as the exploration, of trees. This extra dimension can allow a more clear structure and a less cluttered field of view to facilitate smoother and easier navigation within the tree. In addition, extension of the layout algorithms in three dimensions could further render the representation of large-scale networks in a more efficient manner. As depicted in Tables 3 and 4 only few such efforts have taken place today.
To increase the performance of visualization tools further, more efficient handling and allocation of memory will be essential. This can be achieved by loading only the necessary parts of the graph into memory and would multiply the amount of data and taxonomy that can be visualized. Similarly the computational power needed to process and handle very big hierarchies can be split using multiple CPU/processor cores or GPU processors. In such a way re-rooting, deletion or expansion of trees would perform better and in a reasonable amount of time. Visualization tools that will be able to process and analyze huge phylogenetic trees or any kind of hierarchy in real time will become essential in the upcoming years.
The next generation of tree viewers should aim to bridge the gap between analysis and visualization like it already happens with bigger platforms like Matlab, Mathematica, MEGA, the R system or the BioPerl and BioJava modules which are currently poor in visualizations. The aforementioned platforms come with their own tree viewers though those are currently able to give static tree visualizations with no interface interactivity. Statistical, phylogenetic, clustering and mathematical analysis should be incorporated in the newer versions of tree visualizations. Currently scientists and users should be familiar with a variety of platforms and software applications, their advantages and their disadvantages, which often takes precious time and makes research more difficult. In most of the cases users analyze and visualize data independently which many times make it difficult to integrate various software applications especially in cases where they don't follow some of the standard widely used formats.
Finally tree viewers should offer easier annotation of phylogenetic trees bringing information from already existing data sources like Gene Ontology or Mesh terms and offer comparative analysis with protein families, clusters of orthologous groups COGS or existing available trees of life in case of evolution studies. This will make the explorations of data easier and simultaneously help researchers to answer the underlying biological questions more effectively.
In conclusion, future tree visualization tools for life sciences are facing some challenges in the future. The main areas of improvement will be the scalability, the user friendliness and interactivity and the exploitation of a virtual 3D space using modern hardware technologies like multi-core CPU's and GPU's.
Authors' Affiliations
(1)
Structural and Computational Biology Unit, EMBL, Heidelberg, Germany
(2)
Computational Biology and Data Mining Group, Max-Delbrück Center for Molecular Medicine, Berlin, Germany
Copyright
© Pavlopoulos et al; licensee BioMed Central Ltd. 2010
This article is published under license to BioMed Central Ltd. This is an Open Access article distributed under the terms of the Creative Commons Attribution License (http://creativecommons.org/licenses/by/2.0), which permits unrestricted use, distribution, and reproduction in any medium, provided the original work is properly cited.