Research

Open Access

Open Peer Review
This article has Open Peer Review reports available.
The Interaction Network Ontology-supported modeling and mining of complex interactions represented with multiple keywords in biomedical literature
Received: 16 March 2016
Accepted: 30 November 2016
Published: 19 December 2016
Abstract
Background
The Interaction Network Ontology (INO) logically represents biological interactions, pathways, and networks. INO has been demonstrated to be valuable in providing a set of structured ontological terms and associated keywords to support literature mining of gene-gene interactions from biomedical literature. However, previous work using INO focused on single keyword matching, while many interactions are represented with two or more interaction keywords used in combination.
Methods
This paper reports our extension of INO to include combinatory patterns of two or more literature mining keywords co-existing in one sentence to represent specific INO interaction classes. Such keyword combinations and related INO interaction type information could be automatically obtained via SPARQL queries, formatted in Excel format, and used in an INO-supported SciMiner, an in-house literature mining program. We studied the gene interaction sentences from the commonly used benchmark Learning Logic in Language (LLL) dataset and one internally generated vaccine-related dataset to identify and analyze interaction types containing multiple keywords. Patterns obtained from the dependency parse trees of the sentences were used to identify the interaction keywords that are related to each other and collectively represent an interaction type.
Results
The INO ontology currently has 575 terms including 202 terms under the interaction branch. The relations between the INO interaction types and associated keywords are represented using the INO annotation relations: 'has literature mining keywords' and 'has keyword dependency pattern'. The keyword dependency patterns were generated via running the Stanford Parser to obtain dependency relation types. Out of the 107 interactions in the LLL dataset represented with two-keyword interaction types, 86 were identified by using the direct dependency relations. The LLL dataset contained 34 gene regulation interaction types, each of which associated with multiple keywords. A hierarchical display of these 34 interaction types and their ancestor terms in INO resulted in the identification of specific gene-gene interaction patterns from the LLL dataset. The phenomenon of having multi-keyword interaction types was also frequently observed in the vaccine dataset.
Conclusions
By modeling and representing multiple textual keywords for interaction types, the extended INO enabled the identification of complex biological gene-gene interactions represented with multiple keywords.
Keywords
Interaction Network OntologyINOLiterature miningGene-gene interactionInteraction keywordsInteraction typesGene regulationSciMinerLLL dataset
Background
Extracting the existence of interactions among biomolecules and identifying the types of these interactions are vital for a better understanding of the underlying biological processes and for the creation of more detailed and structured models of interactions such as in biological pathways. One major type of biomolecular interactions is the interactions among genes and proteins. In this article, we use the commonly applied GENETAG-style named entity annotation [1], where a gene interaction involves genes or gene products (proteins).
The types of interactions (or events) among biomolecules are in general signaled with specific interaction keywords (trigger words). For example, the interaction keyword "up-regulates" signals an interaction type of positive regulation, whereas the keyword "inhibits" signals an interaction type of negative regulation. We have previously collected over 800 interaction keywords, which we used with support vector machines (SVM) [2] to classify pairs of genes or proteins as interacting or not [3]. We have also shown that the usage of ontologies, such as the Vaccine Ontology (VO), can enhance the mining of gene-gene interactions under a specific domain, for example, the vaccine domain [3, 4] or vaccine-induced fever domain [5]. These over 800 interaction-associated keywords provide us tags for mining interaction relations between two genes or proteins. However, this is basically a binary result of an interaction between two molecules or entities. In other words, two entities are classified as interacting or not interacting.
To extend from the binary yes/no results, we hypothesized that the ontological classification of interaction-associated keywords would allow us to further identify and classify the types of interactions, consisting of multiple interaction keywords (e.g., regulation of transcription). A biological ontology is a set of computer- and human-interpretable terms and relations that represent entities in a biological domain and how they relate to each other [6]. Based on the above hypothesis, we ontologically classified the interaction-related keywords in the Interaction Network Ontology (INO), a community-driven ontology of biological interactions, pathways, and networks [3, 7]. INO classifies and represents different levels of interaction keywords used for literature mining of genetic interaction networks. Its development follows the Open Biological/Biomedical Ontology (OBO) Foundry ontology development principles (e.g., openness and collaboration) [8]. In a recent study, we demonstrated the utility of using INO and a modified Fisher's exact test to analyze significantly over- and under-represented enriched gene-gene interaction types among the vaccine-associated gene-gene interactions extracted using all PubMed abstracts [7]. Our study showed that INO would provide a new platform for efficient mining and analysis of topic-specific gene interaction networks.
Nevertheless, there still exist two more challenges regarding the INO-based classification method. The first is that the INO-based data standardization is not easy for tool developers to deploy. The second is that current INO-based classification focuses on the classification of interaction types signaled with one keyword in a sentence. However, it is quite frequent that two or more interaction-related keywords collectively signal an interaction type in a sentence. Such combinations of keywords were discussed in the Discussion section of our previous paper without further exploration [7]. In this article, we report our effort to address these two challenges, including the further development and standardization of INO-based classification method and INO-based classification of multiple interaction keywords representing interaction types in sentences. We have also applied these to two case studies of gene-gene interactions in a model bacterium (LLL dataset) and vaccine-related literature.
Methods
Figure
1
illustrates the overall workflow of our proposed approach of the multi-keyword INO modeling and its application in literature mining for gene-interaction analysis. Briefly, the INO modeling procedure (as shown in the left part of Fig.
1
) aims at identifying and classifying the interaction patterns of two INO keywords (see the
INO ontology modeling and editing
section below for more details). Once the INO-interaction keyword dictionary is established, it can be applied to constructing interaction networks of biological entities from any set of biomedical literature using SciMiner [
7
,
9
] (as shown in the right part of Fig.
1
).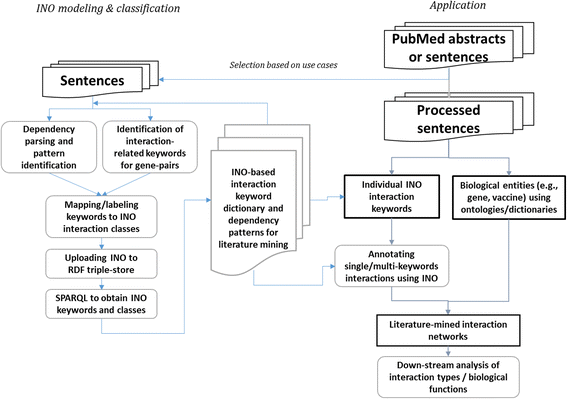 Discussion
In this paper, we investigated the interaction types that are characterized with multiple keywords used in combination. The main contributions are: (1) Extending INO by modeling interaction types (classes) each signaled with multiple keywords in literature sentences and adding many new terms by analyzing the LLL and vaccine datasets, (2) Standardizing INO-based literature mining for easy use and testing by future studies. (3) Characterizing and demonstrating multi-keyword interaction type ontology modeling of literature sentences by analyzing the LLL and vaccine-gene interaction datasets.
Ontology-based Literature Mining (OLM) is an emerging research field that applies ontology to support literature mining. With the support of ontologies, OLM significantly enhances literature mining performance [28–35]. For example, the Gene Ontology (GO) has been used in supporting literature mining [29, 30, 32]. The NCBO BioPortal Annotator [31] is a web service that supports ontology-based tagging that uses Mgrep [36] as the concept recognizer tool [37]. We have effectively applied OLM in mining gene-gene interactions [3–5, 7, 38]. We have also developed a VO-based SciMiner method to mine the interactions among vaccines and genes [3]. In this study, based on our observation of the frequent usage of multiple keywords for one specific interaction type [7], we extended our previous ontology-based gene-gene interaction research to focus on ontological representation and modeling of this special type of gene-gene interactions and multi-words associated with these interaction types. It is noted that an early version of this study was reported in the International Workshop on Biomedical Data Mining, Modeling, and Semantic Integration (BDM2I2015) in the International Semantic Web Conference (ISWC 2015) [38]. The current peer-reviewed journal article has significantly extended the early proceeding paper.
Literature mining methods for extracting interactions among biomedical entities including genes and proteins typically formulate the problem as a binary classification task, where the goal is to identify the pairs of entities that are stated to interact with each other in text [39, 40]. Several different methods have been proposed to tackle this problem ranging from relatively simpler co-occurrence based methods [41] to more complex methods that make use of the syntactic analysis of the sentences [42–44], mostly in conjunction with machine learning methods [45–47].
Multi-keyword interactions have been represented as complex events in the Genia corpus [21], which has also been used in the BioNLP Shared Tasks on Event Extraction. In this representation, in order to identify the complex events, first the simple events (e.g. gene expression, regulation) signaled with individual keywords need to be identified. Next, the simple events are combined to form a complex event. For instance, given a sentence that states that gene A regulates the expression of gene B, the expression of gene B is represented as Event 1 (i.e., expression of gene B), and Event 2 is a complex event where gene A regulates Event 1. Therefore, we could infer a possible relation between gene A and gene B, by the association of Event 1 – gene B – Event 2 – gene A. Such recognition of the gene A-B interaction is indirect, and may become even more complex when multiple events (with multiple keywords) are applied. Compared to the Genia approach, INO provides a more fine-grained and direct classification of interaction types and can directly model the relation between two biomolecules (e.g., genes or proteins). For instance, the interaction between gene A and gene B in the above example is directly modeled as the interaction type "regulation of gene expression" in INO.
As a conceptual model for the domain of gene regulation, the Gene Regulation Ontology (GRO) [48] models complex gene regulatory events similarly to INO. GRO has recently been used in the Corpus Annotation with Gene Regulation Ontology Task in the 2013 edition of BioNLP Shared Task [49]. The domains of GRO and INO differ. GRO focuses on only gene regulations. However, INO targets the broader scope of interactions and interaction networks. Similar to INO, GRO is also aligned with the Basic Formal Ontology (BFO) and many other ontologies such as the Gene Ontology (GO). However, for the ontology alignments, GRO uses its own identifiers and references back to the original ontologies; in contrast, INO directly imports related terms from other ontologies. Technical representations of entities in INO and GRO also differ in many aspects. Compared to GRO, one of the main advantages of INO is that the interaction types and sub-types are associated with manually compiled comprehensive lists of literature mining keywords and dependency patterns.
These keywords and patterns can be incorporated in dictionary-based or statistical taggers for tagging the interaction keywords in text, which can then be used to map the interactions to their corresponding types in INO. Using the dependency parse trees of the sentences, we proposed an approach for identifying interaction keyword pairs that together represent an interaction type in INO. We showed that the majority of the related keyword pairs in the LLL dataset are directly connected to each other with a dependency relation. However, the remaining-related keywords (19 cases out of 89) do not have direct dependency relations with each other (Fig. 5). In addition, there are complex interactions, which are signaled with more than two keywords. As future work, we will investigate generating complex dependency patterns for these types of interactions.
Future work includes automatic identification and modeling of novel multi-keyword interactions by SciMiner. The currently available multi-keyword interactions were manually identified by experts, who reviewed individual cases of multiple INO keywords in the same sentence. An automated machine learning-based approach to identify such multi-keyword interactions will be developed and incorporated into INO and SciMiner. In addition to the identification of multi-keywords in the same sentence, we are expanding our ontology-based mining approach to identify interactions across multiple sentences. The complete standalone pipeline will be available upon completion of the development.
In order to ontologically represent and to efficiently identify these complex interaction types across multiple sentences, we plan to standardize them using a regular expression-based approach in addition to the notion of the current '//'-based and dependency pattern based strategy. This will be implemented by referencing the strategy in the Stanford TokensRegex Framework [50]. It is possible to extend the INO dependency patterns by incorporating the regular expression-based representations in the Stanford TokensRegex Framework. Such a strategy can be added as an important INO attribute so that other literature mining community members can use them in their own applications.
In this paper, we demonstrated our strategy of integrating INO with the SciMiner tagger for ontology-based literature mining. Currently, the integrated INO-SciMiner works as a standalone package; and it can be easily incorporated into other literature mining pipelines, if desired. The current SciMiner system can identify gene/protein and vaccine, but will be updated to be able to identify other entities such as drug, tissue, and etc., thus, the future version of INO-integrated SciMiner can be applied to not only the typical gene-gene interaction, but also other interactions such as gene-drug interaction, drug-chemical, drug-tissue and various types of interaction.
Conclusions
The Interaction Network Ontology (INO) is extended with a specifically defined annotation property to model and represent two or more textual keywords that are used to represent specific molecular interaction types. A SPARQL query is able to easily extract the information of complex interactions and corresponding keywords. Our LLL and vaccine use cases demonstrate the frequent occurrence of such complex keyword patterns in biomedical literature and our INO-based strategy supports the modeling and analysis of these complex interaction types.
Abbreviations
BFO:

Basic formal ontology
GO:

Gene ontology
INO:

Interaction Network Ontology
NCBO:

National Center for Biomedical Ontology
PSI-MI:

Proteomics Standards Initiative-Molecular Interaction
SVM:

Support vector machine
VO:

Vaccine ontology
Declarations
Acknowledgements
Some of the data were presented at the International Workshop on Biomedical Data Mining, Modeling, and Semantic Integration: A Promising Approach to Solving Unmet Medical Needs (BDM2I 2015), in connection with the International Semantic Web Conference (ISWC 2015), October 11–15, 2015, Bethlehem, PA, USA. We acknowledge the feedbacks obtained from the attendees of the workshop.
Funding
This research was supported by grant R01AI081062 from the US NIH National Institute of Allergy and Infectious Diseases (to YH) and Marie Curie FP7-Reintegration-Grants within the 7th European Community Framework Programme and the BAGEP Award of the Science Academy (to AO). The publication fee was paid by a discretionary fund from Dr. Robert Dysko, the director of the Unit for Laboratory Animal Medicine (ULAM) in the University of Michigan.
Availability of data and material
All data generated or analysed during this study are included in this published article (and its supplementary information file).
Authors' contributions
AO manually annotated the LLL dataset, performed dependency tree parsing, and identified the keyword dependency patterns. JH used SciMiner to process the LLL and vaccine literature datasets and proposed how to link SciMiner with INO to better support literature mining. YH was responsible for the INO development, INO representation of literature mining keywords and dependency patterns, and SPARQL query. AO, YH, and JH manually annotated the results. All authors contributed to data interpretation, active discussions, and manuscript writing. All authors read and approved the final manuscript.
Competing interests
The authors declare that they have no competing interests.
Consent for publication
Not applicable.
Ethics approval and consent to participate
Not applicable.
Open AccessThis article is distributed under the terms of the Creative Commons Attribution 4.0 International License (http://creativecommons.org/licenses/by/4.0/), which permits unrestricted use, distribution, and reproduction in any medium, provided you give appropriate credit to the original author(s) and the source, provide a link to the Creative Commons license, and indicate if changes were made. The Creative Commons Public Domain Dedication waiver (http://creativecommons.org/publicdomain/zero/1.0/) applies to the data made available in this article, unless otherwise stated.
Authors' Affiliations
(1)
Department of Computer Engineering, Bogazici University, Istanbul, Turkey
(2)
Department of Biomedical Sciences, University of North Dakota School of Medicine and Health Sciences, Grand Forks, USA
(3)
Unit for Laboratory Animal Medicine, University of Michigan, Ann Arbor, USA
(4)
Department of Microbiology and Immunology, University of Michigan, Ann Arbor, USA
(5)
Center for Computational Medicine and Bioinformatics, University of Michigan, Ann Arbor, USA
(6)
Comprehensive Cancer Center, University of Michigan, Ann Arbor, USA